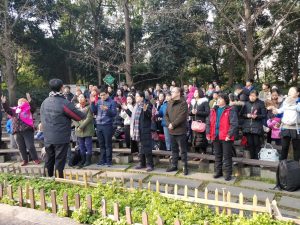 While many members of Early Rain Covenant Church were not free to gather for Sunday worship in Chengdu on 16 December because of the raid on the church on the previous Sunday, those who could, came to the church building. However, the church gate was locked and every entrance was guarded by plainclothes and uniformed police officers preventing worshippers from entering the church. After over 100 arrests the previous Sunday, more than 60 church members were arrested this week, including an infant. When some members started a small worship meeting in a nearby park, this was also shut down by the police.
In addition to these raids, many church members are under the supervision and control of community authorities in their homes. Police officers have gone to the homes of church members, intimidating, threatening and arresting them. Communication networks between church members have been blocked off and mobile phones are being monitored.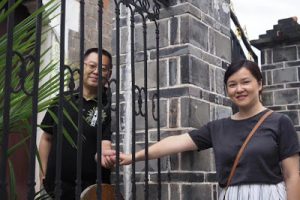 More than ten key church members are still in criminal detention since 9 December. Pastor Wang Yi and his wife Jiang Rong (pictured) are detained on the charge of incitement to subvert state power. The couple's 11-year-old son is staying with Pastor Wang's mother Chen Yaxue (73), and both are under 24-hour police surveillance. "They follow us wherever we go… The surveillance is taking a huge toll on my grandson – he's in shock," Pastor Wang's mother said. None of the lawyers of those in criminal detention has been able to see their clients. They have been refused for various reasons including that their clients are still being interrogated.
Early Rain Covenant Church remains strong in the face of increasing opposition. In a Facebook update on the church's situation, the list of most recent police interventions to suppress its activities is followed with this powerful prayer:
"Lord, today we worship you in police cars. We worship you in police stations. We worship you in detention centres. We worship you in prisons. And we worship you in homes. We have no other goal except to worship you alone. We ride in buses heading to police stations as though riding down the road to Zion. For you tell us, Lord, that you are seeking worshipers who worship you in spirit and in truth. May you be pleased with our worship. We have nothing to offer you but our hearts. We offer them up sincerely to you now.
Wherever I am,
Whatever I meet,
I will follow your will forever."
Raid on Rongguili Church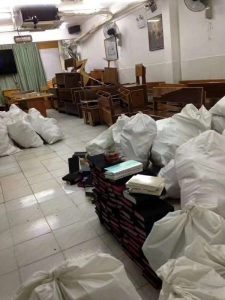 Early Rain Covenant Church is not the only prominent house church in China to be closed in December. The authorities shut down Rongguili Church in Guangzhou on Saturday 15 December when more than 60 police officers and officials stormed a children's Bible class. The officials included representatives from the education and religious affairs departments. They stayed in the building all day and confiscated church property including more than 4,000 books. Police cordoned off entry and exit points for the roads leading to the church building.
Rongguili Church is well-known throughout China and also in the West and has been attracting up to 5,000 worshippers per week. The church was founded in 1978 by the late pastor Samuel Lamb, one of the leading figures of China's independent house church movement, who spent over twenty years in labour camps prior to starting the large house church.
This makes it the third prominent unregistered Protestant church to be shut down by Chinese authorities in 2018, after the closure of Zion Church in Beijing in September and Chengdu's Early Rain Covenant Church last week.
According to Church in Chains partner Bob Fu of China Aid, more than 10,000 cases of Christians being detained have been documented so far this year, compared with just over 3,000 cases for the whole of last year. These figures certainly support the view that Christian persecution is now at the highest level since the Cultural Revolution.
(China Aid/China Partnership/ Pray for Early Rain Covenant Church (Facebook)/ South China Morning Post)
Share this