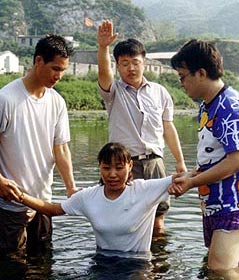 On Thursday 7 July, Pastor Cai Zhuohua finally appeared in court in Beijing along with his wife, Xiao Yunfei, her brother, Xiao Gaowen, and sister-in-law, Hu Jinyun.
They were all arrested last September and faced charges of "illegal business practices" after 200,000 Bibles and other Christian literature were found in a storage room.
Prior to his arrest, Pastor Cai had been responsible for six house churches. During the court hearing, Cai's lawyers argued that the books were to be given away free of charge to the church members.
In China, only the Amity Press belonging to the officially-sanctioned Three-Self Patriotic Movement is allowed to publish and print a limited number of Bibles and other Christian literature each year.
A verdict is expected within the next two weeks and it is feared that heavy sentences may be imposed. Pastor Cai and his wife have one four-year-old son, Cai Yabo, who is now in the care of his grandmother. (China Aid Association/Open Doors)
Share this