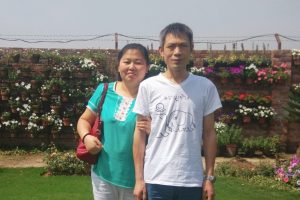 Pastor Hao Zhiwei  (pictured with her late husband) has been in custody for two years and four months since her arrest in July 2019.
Pastor Hao (50) was the pastor of Egangqiao Church in the city of Ezhou in Hubei Province.  She was charged with  "fraud" for collecting tithes and offerings from her house church amounting to 2.24 million Yuan (€310,000). Her trial was originally scheduled for January 2020, then August 2020 and has been postponed on several occasions due to Covid-19.
The pastor was recently visited by her lawyer Si Weijiang who said that she was heartbroken at news he brought about her younger son Moses (14) who is suffering from severe depression and has dropped out of school and has begun locking himself in a room. Her older son Paul (18) had been taking care of Moses but is now attending university in Zhejiang Province. Their father (and Pastor Hao's husband) died of liver cancer in 2018. Last year, Paul commented, "The government is indefinitely postponing the trial as they continue to look for evidence so they can frame my mother by building a fraud case against her that never existed in the first place."
Pastor Hao has endured poor health in prison, suffering acute pancreatitis on four occasions which nearly ended her life. Her health remains poor as she has lost over 20 kg/3 stone in weight, but her faith has remained strong, according to her lawyer, who commented that she had "peace in her heart". He also stated that she holds a strong belief that she will be acquitted.
Arrest and charges
The arrest of Pastor Hao follows a sustained campaign by state authorities against the church. In early 2018, the local government ordered that Egangqiao Church (pictured) be demolished but the congregation refused. Around this time, the pastor's husband died of liver cancer.
On 31 July 2019, authorities arrested Pastor Hao along with two church workers, Hong Ying and Wang Yuanxiang, on fraud charges for collecting tithes and offerings. The arrest charges were based on the church tithes given to Pastor Hao, which the Chinese government claimed amounted to fraud due to her  illegal status as a preacher in a house church (despite the fact that the tithes were tracked and verified by others in the church).
It is understood that the two co-workers have since been released because they "confessed". Pastor Hao refused to plead guilty and faces at least ten years in prison if convicted.  Her lawyer believes that this is probably the first such case in China and is concerned that a conviction could set a precedent, saying: "The case is set to have a far-reaching legal impact that could see more house church pastors like Pastor Hao come under more legal scrutiny on top of the existing administrative regulations over religious affairs."
Soon after the arrests, the authorities  demolished Egangqiao Church to make way for expansion of a steel plant. While the 18-year-old church was surrounded by barbed wire in preparation for demolition, some members went through the wire and worshipped inside.
Background
Pastor Hao graduated from South Central Seminary in 2001 and Ezhou's government-approved Three-Self Church offered her the minister's position due to her excellent preaching. However, her pastor's licence was revoked in 2007 because she disagreed with the Religion Bureau's governance on churches. The Ezhou Three-Self Church was shut down and converted into a house church, later called Egangqiao Church.
In 2017, Pastor Hao was placed under administrative detention for 15 days for "organising illegal gatherings".
(China Aid, International Christian Concern, South China Morning Post)
Share this