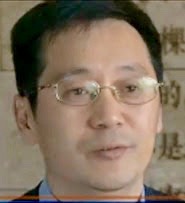 News emerged this week that Pastor Jin Tianming of Shouwang Church appeared online in May after nine years under house arrest. The news was shared by Christian Solidarity Worldwide in its paper New research on China's urban house churches amid the COVID-19 pandemic, published on 21 September. The paper presents the findings of research carried out in May and June 2020 into the impact of the pandemic on unregistered Protestant house churches in China.
Pastor Jin Tianming is the founder of Shouwang Church, one of Beijing's largest house churches, which refuses to register with the official government-approved church, the Three-Self Patriotic Movement. He has experienced police harassment since 1999 including questioning, warnings and temporary detention, and has been under house arrest since April 2011, when he was detained at a plaza where the church was holding outdoor services following eviction from its premises. He has never been brought to court.
On 8 May 2020, Pastor Tianming appeared on Zoom as one of three keynote speakers participating in a forum called History and Inheritance initiated by several Beijing pastors to share the history of the city's house churches and encourage Christians in their faith during the pandemic.
Pastor Tianming spoke about the history of China's urban house churches and Shouwang Church, recounting how house churches appeared in the 1950s when, because of Christians' refusal to join the official church, they began to meet in homes, fields and even caves. The house church phenomenon is the result of Christians' adherence to freedom and autonomy, he said, and in this sense house churches are the forerunners of civil society. Pastor Tianming explained that this is what scares the Chinese government the most.
Those watching the Zoom event reported that although Pastor Tianming looked a little older, his nine years of house arrest have not taken away his gentleness and peace; they said his faith is as firm as ever. The pastor said he was glad that many church members had got married during the epidemic and that more than a dozen had gone abroad to study theology. He said that the church has more and more committed members, despite the fact that they cannot meet normally.
While he was speaking, an express delivery courier knocked on his door and the pastor commented that he only very recently obtained the right to accept express deliveries. Pointing to a small red mark on his face, Pastor Tianming said it was the result of an intense conflict with the guobao (domestic security officers) after he went out to attend a small group meeting nearby.
His house arrest involves three shifts of officers covering 24 hours a day, with three guard posts from the main gate of the apartment building to the elevator and then to the door of his apartment. After two years of house arrest, due to a serious decline in his physical condition and after numerous applications, he was finally granted permission to walk downstairs for two hours a day.
Shouwang Church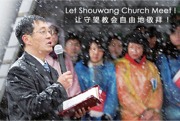 Shouwang Church has been harassed by the government since 2008 and was forced outdoors permanently in April 2011 following a series of evictions due to government pressure. Services were held at a plaza every Sunday, whatever the weather – even in snow (pictured) – and every Sunday the authorities took many members away and detained them in police stations for periods of up to 48 hours. Many members lost their jobs and were evicted from apartments because of their membership of the church.
After several years of constant official harrassment the members discontinued the main Sunday service and began meeting in small groups, but in March 2019 the Beijing Municipal Government banned the church because of its refusal to register.
"After the epidemic, the persecution may increase"
At the end of Christian Solidarity Worldwide's report, the researcher states that even during the severe period of the epidemic the government on occasion interrogated or detained house church pastors, and warns: "After the epidemic, the persecution may increase. Some pastors have already been informed in advance that they will be detained and sentenced… There are rumours that high-level Chinese officials are tasking universities to research how to control the spread of Christianity on the Internet. The Chinese government is using new technologies to make totalitarianism pervasive."
The report refers to several prominent churches as well as Shouwang, including Beijing Zion, Shanghai All Nations, Chengdu Early Rain, Guiyang Living Stone Church, Guangzhou Bible Reformer Church and Xiamen Xunsiding, and notes that these churches were persecuted even while participating in the provision of aid to Wuhan.
The report states, "For a long time, the government has also threatened, intimidated, investigated, and summoned Christians in these churches. Fines and forced evictions are also the government's tricks to shatter urban house church collective gatherings, forcing out pastors or believers who establish churches in other places, destroying their peaceful lives" and goes on to say, "The elimination of independent house churches is a long-term and lasting religious strategy of the Chinese government. The official model is still that the Ethnic Affairs and Religious Bureau jointly with the police, guobao and communities, detain, summon, threaten, intimidate, seal churches, tear down crosses, and use other violent methods to gradually dissolve all house churches. House churches will also continue to resist using non-violent and non-cooperative methods."
(China Aid, Christian Solidarity Worldwide)
Share this