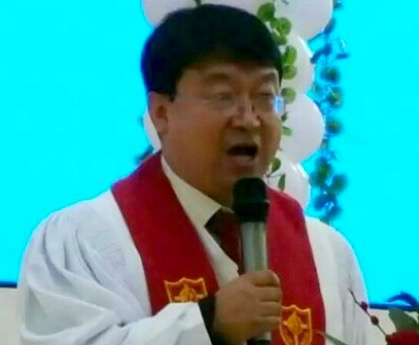 Pastor Han Chung-Ryeol was brutally murdered on 30 April in Changbai, Jilin province. He was known for helping North Korean refugees and it is thought that his assassins came from North Korea.
Han Chung-Ryeol (49) was ethnically Korean but Chinese by birth and citizenship. He pastored a Three-Self church (officially registered) in Changbai Korean Autonomous County, which faces Hyesan City, North Korea, across the Tumen River – a key point for cross-border movement by defectors and traders. Pastor Han reportedly left his church building in Changbai at 2 pm on 30 April. At 8 pm his body was found on the side of a hill on the outskirts of Changbai.
Pastor Han had been stabbed repeatedly in the stomach and his head had been hacked with an axe. All his personal belongings, including his mobile phone, were stolen. He is believed to have been killed by North Koreans who returned to North Korea following the attack. In February, the North Korean government issued an order for him to be kidnapped, brought to North Korea and interrogated. Despite the threat, he continued his work in Changbai, although recently he had taken security precautions.
Pastor Han was known for helping refugees who crossed into China from North Korea. He provided food and clothing and shared the gospel with each one. Then he sent them back to North Korea – he would not help them defect, but insisted that they should return home to their families and not abandon them.
"Whether this person dies or not, they have to go back," said Pastor Han. "If they die, God will honour them. But if they go to South Korea, they will turn their backs on God." This may have been why the Chinese authorities continued to permit him to help North Koreans, no matter how frequently the North Korean government complained about him.
It has been reported that many of the people in North Korea whom he helped have been rounded up by the authorities for questioning.
A church source said that six hundred church members gathered to mourn Pastor Han, and that several members are cooperating with a police investigation. The pastor leaves a wife and and a son and daughter.
Background
When Pastor Han was graduating from East-North Theological Seminary in Shenyang, China, some elderly people called him to visit Changbai to preach because they had no church. So he went, stayed, and planted Changbai Church in 1993.
In 1993, North Korea was suffering a terrible famine. North Koreans flooded across the border, and it was rumoured along the border in North Korea that if one went to a building with a cross on top, they would help. In Changbai there was one building with a cross on top – Pastor Han's church. As North Koreans came to the door of his church, he gave them food and clothing, and told them about Christ. He also trained local people to work amongst them.
For over twenty years Pastor Han helped countless North Koreans, including orphans, sex-trafficked women, soldiers and famine-starved refugees. North Koreans often said they could "see his heart," which helped them to trust him.
Pastor Han's wife spent time in prison in North Korea – on a visit to relatives, she was imprisoned for evangelising North Koreans. By a remarkable coincidence, a fellow prisoner in her jail cell was a kotjebi, or North Korean orphan, whom she and Pastor Han had once helped in China. Full of gratitude, the kotjebi shared enough clothing for her to keep warm in the cold prison cell.
Pastor Han was a committee member of the Jilin Religious Department and a religious affairs official of the Changbai County Communist Party.
(Kukmin Daily/Voice of the Martyrs)
Share this