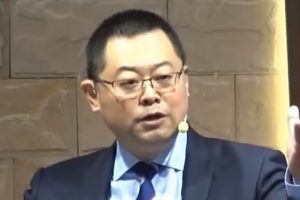 On 26 December, the long-awaited trial of Wang Yi, pastor of Early Rain Covenant Church, was held in secret in Chengdu, capital of Sichuan province. The trial took place on the 46th birthday of his wife, Jiang Rong.
Wang Yi (46) has been held in government detention since his arrest in December 2018 along with Jiang Rong and around 150 other church members (most of whom have since been released). Their arrests followed a long campaign of harassment against the church.
The trial was held at the Chengdu Intermediate People's Court and no family member or church member was allowed to attend or was even advised that the trial would proceed. Wang Yi's chosen defence lawyer, Zhang Peihong, was removed from the case in November by the authorities and two lawyers were appointed by the government to defend him.  The trial took place amid tight security, with many plainclothes police officers guarding the building. When a church member approached the court building, he was attacked, thrown to the ground, stamped on, and interrogated.
No details have emerged about what transpired at the trial and no verdict has been announced.  In July, the authorities added the charge of "illegal business activity"  to the existing charge of "incitement to subvert state power" against Wang Yi.  The additional charge refers to claims that the church sold Bibles and books without a proper licence. It was thought that this additional charge was brought as there was little evidence to support the subversion charge. It is feared that Wang Yi may receive a sentence of at least ten years' imprisonment.
Family held under close surveillance
Jiang Rong , who held a senior leadership position in Early Rain church, was released on bail in June 2019 and it has emerged that she lost a significant amount of weight while in detention. She was reunited with her 11-year-old son Shu Ya (now aged 12) and they have been living since then under house arrest in an apartment in the Hua Yang district of Chengdu.
Jiang Rong has been denied contact with family and church members and Shu Ya (who previously went to a church-run school)  is transported to public school each day by police officers. He also is denied contact with any members of the church. While his parents were both in detention, Shu Ya lived with his grandmother (Wang Yi's mother). It has emerged that during the past year, she has become a Christian.
(China Aid/Early Rain Covenant Church)
Share this