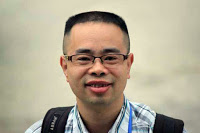 Pastor Yang Hua has become critically ill in prison with inflammation of the blood vessels. His legs are swollen and badly ulcerated, and without adequate treatment he may need a double amputation. He is at risk of developing sepsis and other serious complications.
Pastor Yang (41) has been in detention since December 2015, when he tried to stop police from confiscating a hard drive during a raid on Huoshi "Living Stone" Church, Guizhou province. He was charged with divulging state secrets, and in January 2017 was sentenced to two years and six months in prison.
On 20 March, one of Pastor Yang's two defence lawyers went to Nanming District Detention Centre to meet him. Pastor Yang was almost carried into the meeting room by three cellmates and seemed on the verge of paralysis. Three days previously, his legs had suddenly become inflamed and ulcerated, with burning pain and rapidly-spreading festering. The doctor on duty at the detention centre treated it as nothing more than a skin infection and administered painkillers.
On 24 March, the lawyer again met Pastor Yang and learned that earlier in the day he had been examined at Guizhou Provincial People's Hospital. Pastor Yang Hua described his condition:
"On March 17, 2017, ulcers began to appear on my legs. I reported it to the detention centre, but the staff said they had seen this many times before, and that it was nothing more than impetigo [a bacterial skin infection]. On March 18 the resident doctor gave me some medication. By March 19, after the festering had spread, I again requested that the detention centre provide proper treatment, such as injections or an IV. On March 20 and 21, the physician on duty put me on an IV drip. The burning pain was so much at this point, however, that I couldn't sleep for several nights. From around 3.30 to 4 am on the 22nd, the agony was truly unbearable. I rang the alarm to report to the cadres on duty. Officer Luo, on watch that night, was furious at being disturbed and screamed some truly awful obscenities at me. No one else in the cell was able to sleep, so in the end the physician on duty gave me two painkillers. I haven't been able to walk or go to the toilet by myself during this period.
"On the morning of March 22, the detention centre brought me to the department of dermatology at the Guiyang Sixth Municipal Hospital for a physical inspection. The doctor diagnosed me with a form of allergic vasculitis [an inflammation of the blood vessels], and said that if no treatment could be found one outcome might be high-level amputation [above the knee]. He recommended high doses of penicillin for a fortnight. The detention centre clinic, however, does not have penicillin.
"At 2.30 pm on March 22, the detention centre gave me a blood test for HIV/AIDS. On March 23, I was again brought to a hospital designated by the authorities, this time the No. 368 People's Armed Police Hospital, for a physical inspection. Five physicians were involved but couldn't come to a final diagnosis. They did, however, recommend that I be taken to a regular hospital for treatment. They also indicated that the cost of treatment might be extremely high.
"That day I submitted a written request for hospital treatment, asking the detention centre authorities to quickly arrange it. On the morning of March 24 I was brought to the Guizhou Provincial People's Hospital to have a blood and urine test. Though they had the results that morning, the guards refused to inform me of them except to say that the HIV/AIDS test had come back negative."
Pastor Yang's lawyers wrote to the Guiyang Procuratorate asking for a review of their client's detention and seeking medical bail – they believe his condition is urgent and serious and that he needs to be admitted to a hospital qualified to deliver appropriate treatment as soon as possible. Two prosecutors told one of the lawyers that the case is highly sensitive and said they could only make a decision in consultation with the judge handling the case and with the Communist Party's Politico-legal Commission.
Reports from Pastor Yang's wife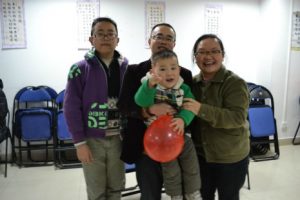 On 24 March, Pastor Yang's wife Wang Hongwu (pictured left, with her family) accompanied the lawyer to the detention centre, arriving just as the pastor returned from a test at the provincial hospital. It was the first time husband and wife had seen each other since December 2015. She had under two minutes with her husband and they were only able to exchange a few words before police officers intervened.
Wang Hongwu reported, "I saw a police car coming in and the person in the car was Yang Hua. I called him. A prisoner helped him slowly get out of the car. I saw him walking very slowly… he shrieked with his hands to the chest, maybe because of foot pain. He showed me his feet, the rash scattered over his two legs. The guard thought the time was too long and took him into the detention centre. At the door I waited. Shortly the lawyer finished the meeting and came out."
After the lawyer's meeting with Pastor Yang, the police asked Wang Hongwu to accompany them to the No. 368 People's Armed Police Hospital, where she met the chief doctor. Wang later wrote a letter asking fellow parishioners for prayer: "The provincial hospital diagnosed it as anaphylactoid purpura [blood vessel inflammation]. I saw that both of Yang Hua's legs were covered in rashes and spots of necrosis. Around the shins on both legs, in particular, there's a large area of necrosis and seeping wounds. The feet are swollen up to the ankles. The doctor said they'd use large doses of hormones and anti-inflammatory drugs to treat it. Because the illness came on so ferociously and rapidly – around a week – the hospital gave me a notice of severe illness and told me that Yang Hua might develop a range of other symptoms, including septicemia, hemorrhaging of the digestive tract, kidney damage, and more."
Background
Pastor Yang Hua has been in detention since 9 December 2015, charged with "deliberately divulging state secrets". On 26 December 2016, Guiyang Nanming District Court opened his trial, which was held in secret; the prosecutor said this was on the grounds that it involved state secrets. On 5 January 2017, the court announced that Pastor Yang had been sentenced to two years and six months in prison.
Huoshi "Living Stone" Church is an emerging urban house church that began in 2008 and grew rapidly. It has been subject to constant suppression and surveillance by the authorities. Another of its leaders, Zhang Xiuhong, was arrested in July 2015 and sentenced in February 2017 to five years' imprisonment for "illegal business operations". She was chair of the Board of Deacons and church accountant.
At the time of Pastor Yang's arrest, the authorities announced a ban on Living Stone church. Its place of worship, a 600 square metre office space on the 24th floor of a new office building in central Guiyang, was sealed and guarded by security personnel hired by the local authorities. The authorities claim the suppression of the church is a criminal matter and not a case of religious persecution.
What "State secrets"?
Pastor Yang's charge of divulging state secrets refers to the allegation that he posted on the internet a document circulated by Guiyang City's Peacekeeping Stability Work Leading Group and marked confidential. Titled "The commanding and control centre of Guiyang City to deal with Living Stone Church according to the law", it was issued in early December 2015.
The notice said: "Dealing with the Living Stone Church according to the law is a high-priority political task. Work unit leaders must personally grasp the issue, join the city's overall deployments, and earnestly mobilise to carry the work out to completion… Disposal of the Living Stone Church is a political task."
(China Aid, China Change)
Share this