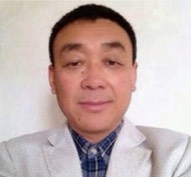 The family of imprisoned Chinese pastor Zhang Shaojie continue to be gravely concerned for his health. Their concerns were heightened following a visit by his sister Zhang Cuixia to the prison on 7 July. After her visit, she described it as follows:
"My name is Zhang Cuixia. I met with my younger brother, Zhang Shaojie, on 7 July. As usual, I checked in at the front desk, but instead of being allowed to come in immediately like before, the prison guard spoke a series of digits to another staff member through his intercom and asked us to wait. We finally saw my brother 40 minutes later. He was extremely skinny. He looked like a bag of bones. His eyes were deep-set with very dark circles. I asked him, 'What's wrong with your eyes? Did someone beat you?' He replied, 'Do you need to be beaten to become like this? You don't need to be beaten to become like this.'
"We were talking through the window. Three prison guards were beside us. There was also a video recorder, and our conversation was voice recorded as well. I asked him, 'How have you been?' He said he was fine, but he looked at me with a wry face to tell me that he actually was not well.  He couldn't say anything against them. He was only allowed to mention the names of family members, not anything related to the church and the outside world. He asked me, 'Is everything all right outside? I saw on TV that the government is making a lot of great policies.'  We had to answer yes and tell him that everything is optimistic under President Xi's new polices. I cried. I wanted to tell him that I was also using my facial expressions to say the opposite.
"In the end, he tried to comfort me: 'Don't worry about me. God's words have been comforting and sustaining me. We both bear the same hope.' After this brief conversation, I burst into tears. It's painful to see such a good person being persecuted. I don't know how long he can persist."
There have been growing concerns about Pastor Zhang's health since his daughter Esther Zhang reported that her father has been tortured in prison for applying to file another appeal against his twelve-year sentence. Esther lives in the USA – she and her family fled China following threats from government officials.
(China Aid)
Background
Zhang Shaojie (52) was arrested in November 2013 after a dispute with local officials who were trying to seize church land. In July 2014 he was sentenced to twelve years in prison for "gathering a crowd to disrupt public order" and fraud. He was local head of the China Christian Council and local president of the government-approved Three-Self Patriotic Movement.
Read Zhang Shaojie's Prisoner Profile
Appeals to the Chinese government
Church in Chains has responded to a call for action from China Aid by sending urgent appeals to the Chinese Minister for Justice, the Chinese Ambassador to the United Nations and the Chinese Ambassador to Ireland. Church in Chains has appealed to the Chinese government "to take urgent action to ensure that Pastor Zhang Shaojie is treated humanely and is allowed access to medical professionals outside of the prison".
Share this