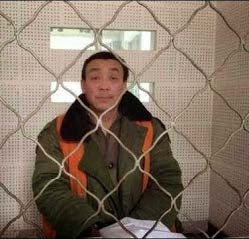 Imprisoned pastor Zhang Shaojie of Nanle County Church in Henan Province has been transferred from Xinxiang prison, where he served seven years, to Xinmi prison in Zhengzhou to serve the remaining five years of his twelve-year sentence. His family recently received a notice that he had been transferred on 8 January, but the authorities did not provide any information on the reason for the transfer. The Notice of Convict's Admission into Prison states that he will spend his first two months in "concentrated education" (see full notice below).
Pastor Zhang (55) was arrested in November 2013 after a dispute with local officials who were trying to seize church land. In July 2014 he was sentenced to twelve years in prison for "gathering a crowd to disrupt public order" and fraud.
Pastor Zhang's family is concerned by reports of the poor human rights record of the prison and its concentrated education programme. His daughter Zhang Huixin (known as Esther), who fled to Texas in 2014, commented: "The condition of the prison is unknown because [family members] have not been granted visitations yet. Our family feels that the sudden transfer is not a good sign."
International Christian Concern notes, "Xinmi Prison is the correction facility reportedly holding many Falun Gong practitioners. There were reports of torture and intensive labour done to the Falun Gong followers which caused mental disorder and the death of a few inmates."
Notice of Convict's Admission into Prison 
Convict Zhang Shaojie, sentenced to 12 years of fixed-term imprisonment by the Nanle County People's Court for Crimes of Fraud and Assembling a crowd to disrupt social order: On 01/08/2021, prison officials escorted Convict Zhang to Zhengzhou City, Henan Province to carry out his sentence. The related circumstances are identified below:
After the Convict's admission into prison, the first two months will be for concentrated education.
 Within two months of admission into prison, visitation day will be every Tuesday, only one visit per visitor permitted per month. Visitors need to bring their identification card and proof of relationship to the convict (Household Registration, Marriage Certificate, or certification from Villagers/Residents committees.)
During the visitation, items cannot be passed between convict and visitor. The prison facility provides stations for daily necessities, and the convict may buy items at their discretion.
(China Aid, International Christian Concern)
Share this