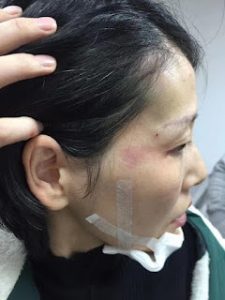 China Aid reports that persecution of the banned Early Rain Covenant Church (ERCC) in Chengdu, Sichuan province, has escalated in recent months.
ERCC is one of the most prominent unregistered house churches in China and is led by former law professor Wang Yi, who has been in prison since a crackdown in December 2018 (his wife was recently permitted to visit him in prison for the first time – see below). ERCC members meet in small groups and suffer continual harassment from local police. One small group called "Tashui" has become the main target for persecution in Chengdu in recent months. Police regularly raid meetings and jail attendees – in August, police arrested 28 members of the group and reportedly beat several, including leader Dai Zhichao.
Tashui member Shu Qiong (pictured) has been beaten and threatened by police three times, most recently on 28 October, when more than ten police officers broke through her front door at around 10.30 am and burst into her home, where her son (pictured below) was studying with six other children. He told his classmates that they should not answer police questions, and an officer pulled him out of the room and threw him into another officer, causing the boy to fall and cut his head.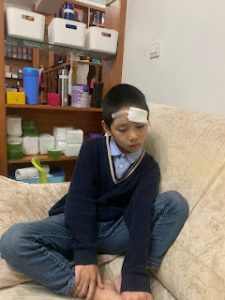 Shu Qiong intervened to protect her son but she too was thrown to the ground and broke her jaw. Police beat her husband Wang Song when he tried to protect his family, and they then called an ambulance to get treatment for the mother and son.
Police confiscated Shu Qiong's books, her two pet dogs and a plaque reading "God Loves the World", and took her and her husband and two other Christians, Chen Zhibin and Wang Xian Yi , to Wuhou District police station, where they were detained until that night.
After Shu Qiong's release, her car tyres were slashed and on 31 October she caught two plain-clothes officers sneaking up to her front door and trying to see inside. China Aid reports that the authorities intended to frame her for illegally running a private school.
Tashui leader targeted
In the past couple of weeks, police have detained Tashui leader Dai Zhichao's family several times and have repeatedly locked the family out of their house by filling the keyhole with glue in an effort to force them to move away from Chengdu. Police have even rented the apartment next door to monitor the family.
On 17 October, police took Dai Zhichao, his wife Lu Lingzhi and their two children to Wuhou District police station, accused them of being members of a cult and detained them for more than ten hours, threatening that if they refused to move away police would force them to move by using "all means possible" to "make their lives miserable". On returning home late that night, the family found the keyhole to the front door completely filled with glue.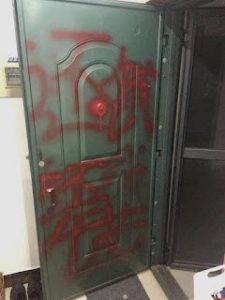 Early on 24 October, the front door was vandalised with spray paint (pictured) and the power was cut off for seven hours. After watching a Sunday morning service online the family tried to leave the neighbourhood but several police officers stopped them, saying Dai was an anti-government dissenter. They took away the key of his electric bike and Lu Lingzhi's mobile phone, and as they arrested him he preached the gospel to them.
The family was held at the police station for hours of interrogation, during which a detective again threatened that they must move out of Chengdu. Officials released the family at 9 pm and when they arrived home they found their keyhole full of glue and had to spend the night at a friend's home.
Wang Yi's wife visits him in prison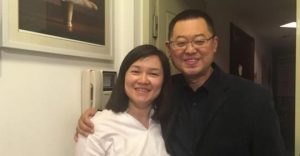 On 1 November, China Aid reported that Pastor Wang Yi's wife Jiang Rong visited him recently in prison – their first meeting in almost three years. Pastor Wang and Jiang Rong were arrested in December 2018 with around 150 other ERCC members. All have since been released (Jiang Rong was released on bail in June 2019) apart from Pastor Wang and elder Qin Defu, who are serving prison sentences of nine and four years respectively.
Jiang Rong said her husband is healthy, although he has lost a lot of weight, and she reported that the prison guards have allowed him to read. His family had been worried since news emerged a few months ago that he was struggling in prison, being fed mouldy rice and kept in solitary confinement except for two hardened criminals guarding him.
Pastor Wang, Jiang Rong, their son Wang Shuya and the pastor's parents have been prohibited from contacting anyone in ERCC, and officials continue to keep Jiang Rong under 24-hour surveillance.
Following his wife's visit, Pastor Wang's family and ERCC members expressed their gratitude and encouragement, stating: "Although we know little about it, we believe that the Lord protects his servant in the dark. May the Lord grant Pastor Wang Yi the opportunity to read Scripture and write articles and let him intercede for churches but also ponder and write for churches."
Read Pastor Wang Yi's Prisoner Profile.
(China Aid, Early Rain Covenant Church)
Share this