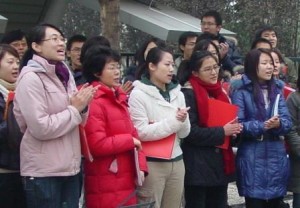 Police detained 16 more members of Beijing's Shouwang house church over the weekend of 10-12 June 2011, and put several others under house arrest.
The police held two Christians in custody in hotels, beginning on the night of Friday 10 June, while another 14 who turned up at Shouwang's outdoor worship site on Sunday morning were taken to 10 different police stations (13 of them were released by midnight, while the last was released the next day). When three Christians came to Haidian police station to visit detained members, they were locked into a basement.
Shouwang church has been holding outdoor meetings at a public plaza in northwestern Beijing since early April 2011, following a series of evictions from rented premises and denial of access to a property the church bought late last year, all due to government pressure on landlords and the vendor. At the first outdoor meeting, on 10 April, 169 people were detained, and confrontations have occurred every Sunday since.
Click here for more details about the history of Shouwang Church.
On Easter Sunday (24 April) CNN reported that police had detained at least 36 church members and put over 500 under house arrest. By early June, police had detained 300 people. Many of the church leaders have been under house arrest almost constantly since early April. Some church members have lost their jobs or rented homes or both.
In May, four leaders left Shouwang Church because they disagreed with the decision to keep meeting outdoors. Some other house churches also disagree with it, fearing that Shouwang's confrontation will have consequences for all house churches. Many, however, have chosen to stand in solidarity with Shouwang. On 11 May, leaders from about 20 house churches in six Chinese cities delivered a petition to the National People's Congress, China's top legislature, asking that the keys of Shouwang's property be handed over to the church, and that the Regulations on Religious Affairs be dropped and replaced by a more favourable law governing religious freedom.
Radio Free Asia interviewed several of the petitioners, including Wang Wenfeng of the Wenzhou China Theology Forum. "I hope the government can see that the Shouwang incident is not an isolated case; rather, many churches in China want the same thing," said Wang. "The most basic request is, 'ÄòLet us meet in public, and let us register.'"
Several other large house churches, including the All-Nations Alliance Church in Shanghai and Liangren Church in Guangzhou, have resorted to outdoor worship after being driven out of rented facilities. These churches, like Shouwang, want to be able to register as independent house churches and do not want to join the government-approved Three-Self Patriotic Movement (TSPM). In recent weeks, members of TSPM churches have visited many police stations to "educate" and "admonish" detained Shouwang members, urging them to leave Shouwang and join TSPM churches. (Compass Direct)
Share this