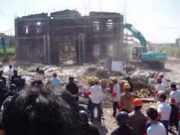 Last Saturday (29 July), thousands of military police demolished a house-church building in Zheijiang province (near Shanghai). The demolition (pictured right) took place in Xiaoshan District in Hangzhou City. The local church traces its history back to 1867 when famous English missionary, Hudson Taylor, preached the Gospel there.

The police arrived in several hundred trucks and used four large excavators to demolish the building. Eyewitnesses reported that the police used electric shock batons and anti-riot shields to disperse a crowd of 3,000 Christians who had gathered to preserve the building. Several hundred Christians were beaten and fifty were arrested.

The Christians in Xiaoshan are greatly worried about the health of the imprisoned Christians. They have no idea of where their brothers and sisters are held, whether the injured have received proper medial treatment of if they still alive, because the public security organs did not follow legal arrest procedures. They are particularly concerned that the Public Security Bureau did not provide an arrest list and are blocking information from family members.

The Hangzhou Daily newspaper (the Communist Party mouthpiece in Hangzhou City) headline on 30 July declared "An Illegal Building Destroyed" failing to mention that the building was a church. Later in the week, the demolition was admitted by the official Chinese News Agency, Xinhua who stated that only two people had been arrested.

The Xiaoshan District government had declared the church building "illegal" because it was built without government permission and asked the Christians to voluntarily destroy it. This church building was on private land purchased by a local Christian couple. Sources from both the government and the church agree that the local government has repeatedly denied the Christian believers' formal request to build a church, though they have met all the requirements.

"The core issue behind the confrontation is that more and more Christians in mainland China prefer to worship in unregistered church communities," Rose Wu, director of the Hong Kong Christian Institute, told Ecumenical News International. "They prefer church communities which are independent [of the government]." (China Aid Association, Assist News Service, Asia News)

CCFC has written to the Chinese Ambassador to Ireland, to express the deep concern of Irish Christians about this demolition.
Share this