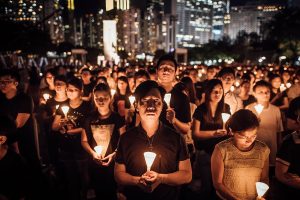 Thirty years ago this week, on 4 June 1989 the Chinese government sent troops and tanks to crush a peaceful pro-democracy student demonstration in Beijing's Tiananmen Square. The number of demonstrators shot and crushed to death has never been confirmed, but is believed to be in the hundreds or, more probably, thousands, and many others were injured. Memorial vigils have been held around the world (including Hong Kong, pictured) but not in mainland China, where extra security was deployed around Tiananmen Square and internet censorship increased.
In the aftermath of the massacre, the government tightened its control over religion, forcing churches to register with state patriotic religious associations (the Three-Self Patriotic Movement for Protestants and the Chinese Catholic Patriotic Association For Catholics) or risk punishment as "evil cults".
Despite this increased control, the Chinese church experienced spectacular growth in the following thirty years, and it is estimated that there may now be over 100 million Chinese Christians, the majority practicing their faith in unregistered churches, outside government control. When this growth came to the notice of the authorities, especially the enormous growth of some unregistered urban churches, they decided to crack down, with the intent to restrict church growth, to force unregistered churches to register or close, and to "sinicise" the church (make it Chinese in character and bring it into submission under the Chinese Communist Party).
Persecution of Christians intensified following the implementation on 1 February 2018 of new Regulations for Religious Affairs. At least 5,000 Chinese Christians were detained and over five hundred pastors were sentenced and imprisoned in 2018, with several prominent pastors receiving long prison sentences, and some unregistered urban megachurches were shut down. In central Henan province, which has a relatively high concentration of Christians, 10,000 Protestant churches were ordered to close, even though most were registered.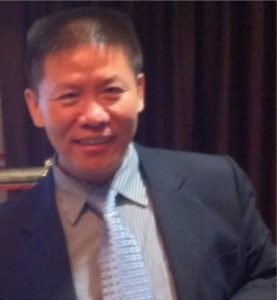 Bob Fu (pictured), founder and president of China Aid, described 2018 as "the worst year of religious persecution in perhaps forty years. I have not seen this level of persecution, both in quantity and in the degree of persecution, since the end of the Cultural Revolution."
China Aid has downloaded internal documents inadvertently posted by the government that reveal its intent to "contain the overheated growth of Christianity".
Registered churches are now required to display the national flag, install surveillance cameras and sing the national anthem at services. They must display portraits of political leaders including Chairman Mao and many have had crosses forcibly removed from outside their buildings. Some pastors of registered churches have been detained.
Henan church to be converted to hotel
On 29 May 2019, China Aid reported that Henan's authorities have laid claim to a registered church building worth approximately €1.3 million, with the intent of turning it into a hotel.
Officials began by banning the church in 2018 and forbidding members to hold worship services, and the government dispatched personnel to watch the church. The Christians continued to hold meetings, however, prompting officials to reiterate their prohibition in May 2019 and to order some of the Christians to attend the local ethnic and religious affairs bureau, where staff told them of their plan to turn the church into a hotel. Describing this visit, one of the Christians said, "The leaders were polite and didn't announce they would seize people if we held services again, but we must hand our church over[to them]."
Explaining the predicament facing the church, another Christian commented, "[Government officials] intend to seal our door, but we have no idea how to fight. We shouldn't have conflicts with them because they are strong police officers. We won't allow them to seal it, but we are helpless."
The government has shut off the electricity supply to the church building in the past, and Christians who gathered to try to prevent it from happening were dragged away.
Rural Guizhou church raided
A video posted to Chinese social media platform WeChat shows the authorities raiding a small, rural church in Bijie, a mountainous area of China's southern Guizhou province. The video shows officials emptying the church of all its belongings and two men using a rod to knock the cross off the roof.
Because the government can access posts on WeChat, Christians are afraid to discuss the incident, and no further details are known.
Rural churches have experienced rapid growth over the past few years – one Christian reported, "People are joining churches by the whole village, one village after another," adding that it is happening because their limited resources force them to rely on God in their everyday lives. Despite their lack of financial resources, many Christians in these areas donate to the construction of well-made church buildings.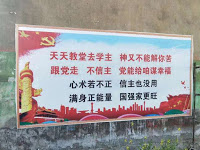 This growth has attracted the attention of the Chinese Communist Party, which has erected large signs in some areas bearing anti-Christian messages, such as the one pictured, which states: "If you go to church every day to learn about the Lord, God still cannot relieve your hardships. Follow the Party and don't believe in God. The Party can give happiness to all. If your heart is not right, believing in the Lord is useless. Go get more positive energy so that our country will be powerful and families thrive."
(China Aid/The Epoch Times/Wall Street Journal)
Share this