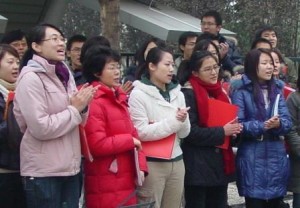 Some 48 members of Shouwang church were arrested on Sunday 1 January as they tried to meet outdoors for worship in Beijing.
Police brought the church members to at least six different police stations – three police stations in Haidian district, and three police stations in Changping district. At these police stations, other church members waited outside for them to be released. Thirty were released by 10pm while others were expected to be held overnight and released on the following day.
During December 2011, church leaders made strenuous efforts to find a new indoor meeting venue after deciding to suspend their outdoor meetings which had been taking place since April 2011. Shouwang was forced to move its services outdoors when it was evicted from its rented meeting place. The authorities had prevented the church from taking possession of a floor of an office building it had purchased. During the 38 weeks of outdoor worship services, a total of more than 1000 church members were taken into police custody for periods of hours or several days.
On 17 December, Shouwang signed a lease for a new indoor venue and two days later, the church's books and some other belongings were moved into this venue. However, the landlord terminated the contract due to pressure from "the local police station, the housing management office and leaders of various government agencies".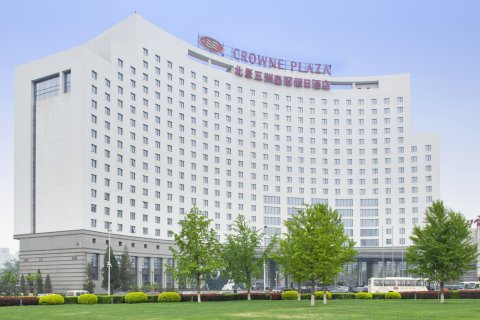 Church leaders signed two further leases with landlords in Zhongguancun area, where the church has worshipped since it was founded in 1993 but the leases were revoked after landlords came under pressure from police and other government agencies.
The church then made arrangements to rent a room in the Beijing Parkview Wuzhou Hotel (pictured) for the New Year's Day service but this arrangement was cancelled after police interference. As a result, the church reverted to meeting outdoors on New Year's Day.
CHRISTMAS DAY IN A POLICE STATION
At the final scheduled outdoor service on Christmas Day, 40 church members were detained in police stations or a hotel for joining the outdoor service and were held till midnight on 25th.
One church member said that an officer interrogated him, taunting him for being afraid to give his home address and threatening to "hold you for more than ten days so that you will lose your job. I will find out where you live and force you to move."
"As for my job, no one can fire me if God does not allow it," the church member wrote. He also advised other church members, "How long they detain you has nothing to do with whether you cooperate with them or not, just as God's love for you has nothing to do with what you do. So do not be afraid, and be brave in speaking out as the Holy Spirit guides you."
China Aid Association President Bob Fu, who visited Ireland in September 2011, commented, "By arbitrarily detaining peaceful religious believers in the capital city on the first day of 2012, Beijing authorities show that they are determined to continue their crackdown on independent religious groups in the coming year." (China Aid/Compass Direct)
Share this