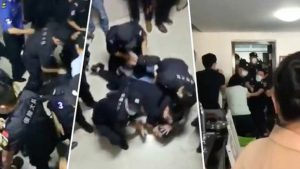 On 3 May a Sunday service at Xingguang Church in the port city of Xiamen, Fujian province, was forcefully shut down by local authorities. Several members of the house church were injured during the process, mobile phones were confiscated and a window and lock were damaged as the officials forced their way into the venue.
At 9 am, dozens of security guards and officers from the local Ethnic and Religious Bureau interrupted the church meeting in a private residence without showing any legal documentation and called it "illegal".
Chaotic scenes ensued as the officials tried to arrest church members, wrestled them to the ground and even dragged some across the floor. Members resisted being removed from the meeting. In a video shared on Facebook by preacher Yang Xibo from Xunsiding Church, the police can be seen holding church members to the ground and shouting "stop filming!" to church members and neighbours recording the raid on their mobile phones.
During the clash one church member suffered a chest contusion, a rib fracture and bruises on his arms. Two other men and women were also injured. Children present at the scene were scared and screamed as they witnessed the violence.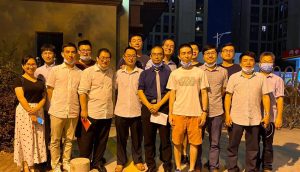 The officials recorded personal details and ID numbers from everyone present. Several church members were detained following the raid and held at a local police station until 9 pm. They were welcomed by other church members with applause and hugs when they were released.
Xingguang Church, which is an unregistered house church, has come under increasing pressure because of its refusal to join the state-sanctioned Three Self Patriotic Association. It was previously raided on 19 April by officials from five different departments and on 3 May the church preacher Titus Yu received an advance notice of administrative punishment for violating several articles of the religious regulations.
Gina Goh of International Christian Concern commented, "Once the threat posed by the pandemic has reduced, China has resumed its crackdown against Christianity, whether the victims are house churches or not. In recent weeks, we have seen an increased number of church demolitions and cross removals on state-sanctioned churches across China, as house church gatherings continue to face interruption and harassment. It is deplorable that the local authorities not only conducted this raid without proper procedure, but deployed excessive use of force against church members and bystanders."
(China Aid/Christian Solidarity Worldwide/International Christian Concern/Radio Free Asia)
Share this