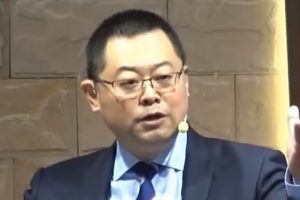 On 30 December, Pastor Wang Yi of Early Rain Covenant Church (ERCC) in Chengdu, capital of Sichuan province, was sentenced to nine years in prison, following a secret trial on 26 December. The People's Intermediate Court in Chengdu found the pastor guilty of "inciting subversion of state power" and "illegal business operations". The pastor has also been sentenced to three years' deprivation of political rights and a fine of 50,000 yuan (approximately €6,400).
Pastor Wang (46) has been in detention since he was arrested on 9 December 2018 in a crackdown that saw around 150 members of his large unregistered church taken into custody and held for various periods of time. Most have been released, including Pastor Wang's wife Jiang Rong, who was freed on bail on 11 June and is under house arrest in a Chengdu apartment with the couple's twelve-year-old son Shu Ya.
Apart from Pastor Wang, the only ERCC member who remains in prison is elder Qin Defu, who is serving a four-year prison sentence for "illegal business operations". However, the authorities continue to harass church members and keep them under surveillance. Many members have lost jobs, been evicted or had their bank accounts frozen and they can only meet in small groups in their homes as the authorities closed the main church premises in December 2018. China Aid reports that recently many members have been ordered to meet with public security officials five times a day.
Response
Lawyer Si Weijiang, hired by Pastor Wang's mother, told the Washington Post in a phone interview that the charge of "illegal business operations" stems from the printing of books about Christian culture. "It is actually about the freedom of publication and there has been no social harm," he said, adding that the charge of incitement "involves preaching and is an issue of speech, which has also inflicted no social harm".
Dr Bob Fu, founder and president of China Aid, commented: "This is a pure case of unjust religious persecution against a peaceful preacher of a Chinese reformed church. This grave sentence demonstrates Xi's regime is determined to be the enemy of universal values and religious freedom. We call upon the international community to stand up to the Chinese Communist Party and hold this evil regime accountable."
Open letter
In anticipation of his arrest, Pastor Wang wrote an open letter in October 2018 titled "My Declaration of Faithful Disobedience", to be published once he had been held for at least 48 hours. Following the pastor's sentencing, ERCC re-published part of the letter on its Facebook page; the following is an extract:
"Regardless of what crime the government charges me with, whatever filth they fling at me, as long as this charge is related to my faith, my writings, my comments, and my teachings, it is merely a lie and temptation of demons. I categorically deny it. I will serve my sentence, but I will not serve the law. I will be executed, but I will not plead guilty…
"Separate me from my wife and children, ruin my reputation, destroy my life and my family – the authorities are capable of doing all of these things. However, no one in this world can force me to renounce my faith; no one can make me change my life…"
Read Wang Yi's Prisoner Profile.
(China Aid/China Partnership/Early Rain Covenant Church/Washington Post)
Share this