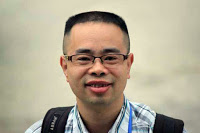 Pastor Yang Hua, a house church pastor who has been detained since December 2015, has been sentenced to two years and six months in prison. The verdict of the court in central Guizhou province was announced on 5 January.
Pastor Yang has been in detention for over a year, since he was detained during a raid on Huoshi Church in December 2015, when he tried to stop police from confiscating a hard drive. He was charged with "divulging state secrets". The prosecutors appointed by the government reportedly tortured him in prison, but were not removed from his case, despite Pastor Yang's lawyers filing a lawsuit against them.
"This is nothing but purely barbaric religious persecution," said Bob Fu, president and founder of China Aid, a Texas-based rights organisation. "We urge President Obama and President-Elect Trump to unequivocally condemn this brutal act."
Church in Chains published the following report on 30 December 2016:
The trial of Pastor Yang Hua on charges of "divulging state secrets" was held in Guiyang, capital of Guizhou province, on Monday 26 December but no verdict has yet been announced. No members of the public were allowed to attend the trial and Pastor Yang's wife, Wang Hongwu, who arrived at the court building at 7.00 am, was forcibly escorted home by police who patrolled outside her apartment complex for the rest of the day.
Pastor Yang's lawyers, Chen Jiangang and Zhao Yonglin (pictured), who were allowed to attend proceedings, said that the court had refused their pre-trial submission that the prosecutors in the case be removed because the prosecutors visited Yang in detention, tortured him, and threatened his family in order to extort a confession. The court allowed the prosecutors to remain on the case and received forged evidence from them that incriminated Yang, who entered the courtroom with two bailiffs holding his arms.
Background
Pastor Yang has been in custody since 9 December 2015, when he was detained after resisting the authorities' attempts to confiscate a computer hard drive belonging to the church. The next day, he received two consecutive five-day administrative detention sentences for "the crime of obstructing justice" and "gathering a crowd to disturb public order".
On 20 December 2015, the day Pastor Yang was due to be released, when his wife Wang Hongwu arrived at the detention centre to collect him she saw him wearing a black hood and being put into an unlicensed vehicle to be transferred to criminal detention.
For more than a month, officials held him incommunicado, and his wife only received news of him on 22 January, when the authorities announced his arrest on the charge of "divulging state secrets".
Letter
In November, Wang Hongwu wrote "A Prayer Letter for Huoshi Church", describing the hardships the church has faced since her husband's incarceration.
In the letter, reproduced in translation below, she describes how the church and family have suffered, including having officials guarding the church and being unable to hold regular services.
Dear family members in the Lord, may peace in the Lord be with you!
I am Sister Wang Hongwu, the wife of Pastor Yang Hua from Huoshi Church in Guiyang. It has been one year since 9 December 2015, when our church was banned. Though our small family has been going through hardships, we are still so grateful.
Because the church was banned, the 600 square metre office building (which is worth a total of more than 5,000,000 Yuan [€690,000]. The down payment is 2,500,000 million Yuan [€345,000], and the mortgage is 30,000 Yuan [€4140] per month) is often guarded by the police. We can neither use it nor rent it out. The authorities specifically heavily fined Zhang Xiuhong, Liang Xuewu and Su Tianfu, [who rented] the building. The church's bank account is frozen, and our church can't hold normal meetings. We are losing a lot of church members. They have to be divided into smaller groups to worship. Not only is the church is facing huge economic pressures, but some church leaders are risking being in jail.
Sister Zhang Xiuhong's case hasn't been tried since she was arrested for illegal business on 28 July 2015.
Pastor Su Tianfu has been released on bail. The lawyers can't access the documents and have no plan for a trial yet. He was charged for divulging state secrets.
You Lei and Wang Yao are being tried for the same charge. The lawyers their parents hired got calls from the Bureau of Justice before their trials. They weren't allowed to plead innocent. If they did, there would not be a trial at all, and the case would be shut with an unlimited duration. If they cooperated with the government, they [were told they] would be released soon. To this day, there has been no trial, and they have not been released.
Pastor Yang Hua has been in the detention centre for nearly one year. His charge is divulging state secrets. We learned from his letters, in this period, he is constantly sick but is still grateful and is always encouraging me.Given the huge hardships suffered by our church and our family, I especially ask brothers and sisters to pray for us. I firmly believe that this is God's most beautiful decree.
May the Lord remember you.
Sincerely,
A weak [person] in the Lord, 
Wang Hongwu
(China Aid)
Share this