Christian persecution in China has risen significantly since the implementation of newly revised Religious Affairs Regulations on 1 February 2018. In the past six months the pattern of religious freedom violations by the authorities has continued and even intensified across several provinces, including Guangdong, Henan, Shandong and Qinghai. The violations range from the demolition of church buildings, burning of crosses, confiscation of religious material and church closures to children being prevented from attending services and Christians being taking into custody.
In Henan Province alone, more than twenty churches have been demolished, over one hundred religious symbols destroyed or removed, and hundreds of arrests have been made since February 2018. In the city of Xining in Qinghai province more than twenty churches have been closed this year and many other churches are being forced to register to avoid closure. According to Church in Chains partner Bob Fu of ChinaAid the persecution of Christians in China is now at the highest level since the Cultural Revolution.
House Churches targeted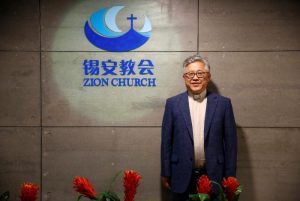 Zion Church in Beijing, one of the city's largest house churches, was ordered by city authorities to install 24 CCTV cameras on its premises for "security reasons" in April 2018. Zion's head pastor Jin Mingri told Reuters in an interview that "they wanted to put cameras in the sanctuary where we worship. The church decided this was not appropriate. Our services are a sacred time." Subsequent to the church's refusal, state security officials and police started harassing churchgoers by contacting them at home and even at their workplaces asking them to promise not to go to church anymore. Zion Church is now being evicted from the renovated office building it rents, despite assurances from the landlord that the lease is valid until 2023. It is unlikely that the church will find another suitable venue, according to Pastor Jin.
In July, 29 of Beijing's hundreds of house churches joined forces and released a statement protesting against the "unceasing interference" with regular church activities since the new regulations have come into effect. In September another 87 pastors signed the letter, bringing the total to 116 signatories.
Crackdown across all denominations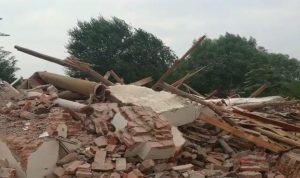 Not only are unregistered house churches affected by this crackdown, registered churches – sometimes centuries old – have experienced persecution in recent months. On Monday 13 August an officially-registered Catholic church in Qianwang, Shandong province, was completely demolished. The altar, the statues and the benches were smashed and the building was ultimately razed to the ground. Members of the congregation demanded an explanation for the destruction of the church which they were not given. The following day they protested outside municipal offices carrying banners and signs, saying: "Give me back my church; give me back my heart!"
Communist Party control
In the six years that President Xi Jinping has been in office, the government has increasingly sought to control religion affairs. In recent months many churches have been ordered to display the national flag, a picture of the president and propaganda posters praising the Communist Party. In many cases these orders were followed by forceful whereby crosses and other sacred images were destroyed.
In August 2018 the Communist Party issued a revised set of regulations for its members. "Party members who have religious belief should have strengthened thought education. If they still don't change after help and education from the party organization, they should be encouraged to leave the party," the new rules say.
Courage and growth despite persecution
Despite the official crackdown on churches, the number of Chinese Christians is growing. It is estimated that there are more Christians in China today than members of the Communist Party, a fact that is clearly troubling the authorities.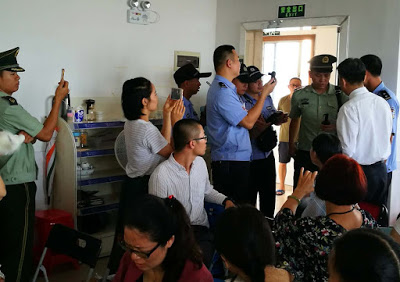 On Sunday 19 August 2018 more than ten police officers raided Bible Reformed church in Guangzhou, in China's southern Guangdong province. Pastor Huang Xiaoning was ordered to stop preaching, but he remained undeterred by this interruption and told police that he would cooperate after he had finished his sermon. He proceeded to preach for another 30 minutes in the presence of the officials. After the officers left he addressed his congregation: "Thank the Lord that our service could be held. Brothers and sisters who are in the congregation, we should all the more treasure every Sunday gathering. I also thank the Lord for leading those law enforcement officers to our church and giving them half an hour to listen to the sermon. May the Lord have mercy on them and open their hearts. May the Lord grant us courage so that we can courageously witness to them about the Lord."
(ChinaAid / CSW / Release International / Reuters / World Watch Monitor)
Share this