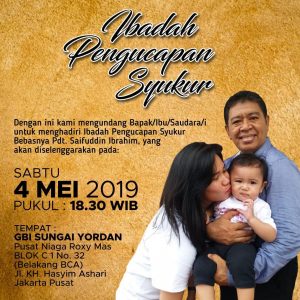 Abraham Ben Moses was released from prison in late April, on probation. On Saturday 4 May, a local church invited Abraham, also known as Saifuddin Ibrahim, to testify at a worship and thanksgiving service. (picture shows the poster advertising this service).
Abraham (who was featured in Church in Chains' Lent Prayer Project) has been reunited with his wife Sara, who was pregnant when he was arrested in December 2017 and later gave birth to a daughter while her husband remained in prison.
The authorities have not revealed why Abraham was released so early in his sentence. Sources said  he had been treated well in prison and never gave up telling other prisoners about Jesus.
(Release International)
More details about Abraham can be found in his Prisoner Profile.
Share this