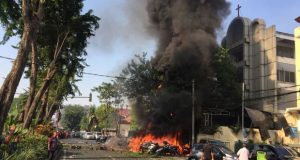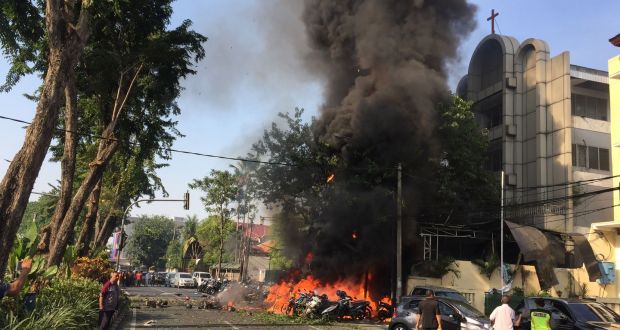 On Sunday 13 May, six members of an Islamist family bombed three churches in Indonesia's second-largest city Surabaya, capital of East Java province, killing thirteen people. Several died immediately, while others died later at the National Hospital, and more than forty others were injured. Islamic State claimed responsibility for the attacks through its media agency, Amaq.
The bombers – a husband and wife and their four children aged between nine and 18 – also died. Police say the father of the family, Dita Oepriarto, was head of the local branch of Jemaah Ansharut Daulah, an Indonesian militant network formed in 2015 that has pledged allegiance to Islamic State.
Jemaah Ansharut Daulah is led by jailed terrorist and cleric Aman Abdurrahman, who has been charged with masterminding attacks including the November 2016 church bombing that killed a toddler. It is campaigning for a caliphate across Indonesia and encourages attacks on the police, which it regards as "infidels".
Indonesia is home to 260 million people and is the world's most populous Muslim-majority country. It has a history of pluralism and moderate Islam, but in recent years Islamist militants have carried out several deadly attacks.
Indonesia's worst terrorist attack occurred in Bali in 2002, when Al-Qaeda killed 202 people, mostly foreign tourists. Al Qaeda also killed 23 people in a series of car bombs in Bali in 2005 and 22 people in attacks on Sulawesi in May that year. Islamic State began carrying out attacks in Indonesia in 2016.
Sunday's attacks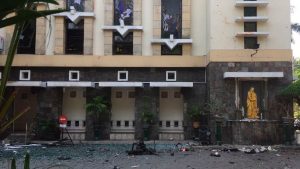 Sunday's attacks took place as parishioners entered the three churches for early morning services. First, the two teenaged sons of the family – Yusuf (18) and Alif (16) – rode motorbikes up to the entrance of Santa Maria Catholic Church (pictured) and detonated explosives at 07.30 local time (00.30 GMT), killing four people.
Five minutes later, their father Dita Oepriarto drove a car bomb into the grounds of Surabaya Centre Pentecostal Church and crashed it, detonating his explosives and setting alight dozens of motorbikes.
He had dropped off his wife Puji Kuswati and their daughters Pamela Rizkita (nine) and Fadila Sari (12) at Diponegoro Indonesian Christian Church, with bombs strapped to their waists, and they carried out their attack shortly after.
Police ordered the temporary closure of all churches in Surabaya on Sunday, and a large food festival in the city was cancelled. Wawan Purwanto, communication director at Indonesia's intelligence agency, said the church attacks were probably linked to last week's deadly riot at a maximum-security jail in the capital, Jakarta, in West Java. During a forty-hour standoff, Islamist terrorist prisoners killed five members of Indonesia's elite counter-terrorism force, in an attack claimed Islamic State claimed responsibility.
A few hours after the church attacks, a bomb went off prematurely in an apartment at Wonocolo behind Taman Police station in Sidoarjo, East Java. Two parents and their eldest son were killed, while two daughters survived. It is believed the family was plotting to attack the police station.
On 11 February, the police shot and wounded a Muslim extremist who attacked a church congregation during Sunday mass in Sleman town in Central Java's Yogyakarta city. He attacked the congregation of St Lidwina Catholic Church with a sword, injuring a priest and three others.
Attack on Monday
A similar family suicide bombing was carried out on Monday 14 May at a police headquarters in Surabaya. The family of five rode two motorbikes up to a checkpoint at the gateway to the building and detonated explosives, injuring six civilians and four police officers. An eight-year-old girl who had been wedged between her parents on their motorbike survived.
Reaction
Benedict Rogers, East Asia Team Leader at Christian Solidarity Worldwide, said: "The idea that an entire family [pictured] could be so radicalised by a cruel ideology as to conduct such horrific attacks, including using their under-age young daughters as suicide bombers, is abhorrent. We urge the government of Indonesia to urgently review its approach to deradicalisation and to make it a priority to address the threat posed by over 600 jihadis returning to Indonesia after fighting in Syria. The government should also see the connection between terrorism and growing religious intolerance in Indonesia, which come from the same ideological root cause."
(BBC/British Pakistani Christian Association/Christian Solidarity Worldwide/Guardian/Morning Star News/Jakarta Post/Open Doors USA/World Evangelical Alliance)
Share this