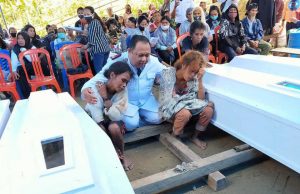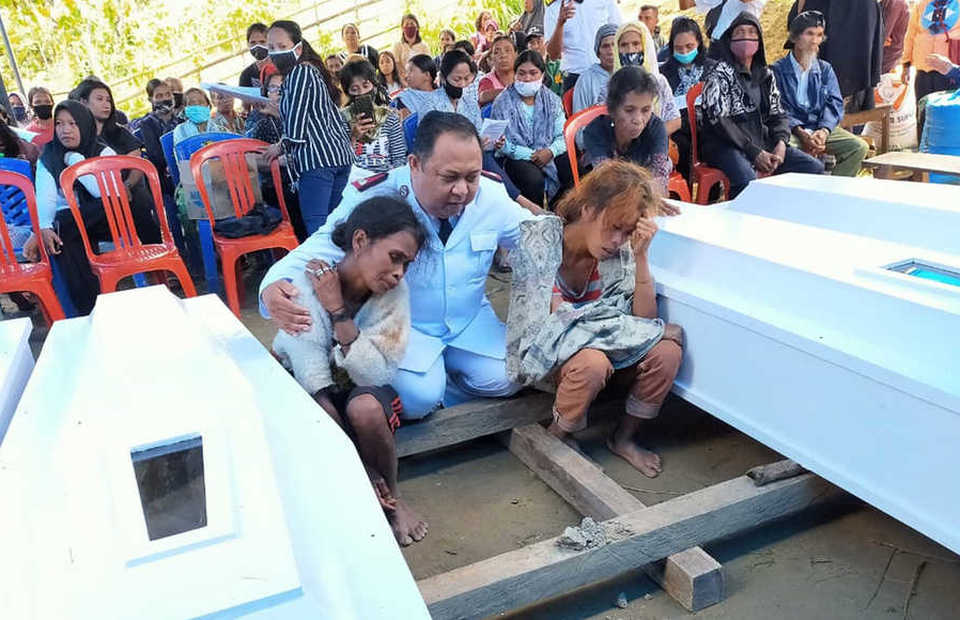 On Friday 27 November, terrorists from the Eastern Indonesia Mujahideen (MIT) attacked a Salvation Army outpost in the remote village of Lemban Tongoa on the edge of the rainforest in Sigi Regency, Central Sulawesi, and killed four Salvation Army workers. The MIT is one of dozens of groups across Indonesia that have pledged allegiance to Islamic State. The four murdered Christians – Yasa, Pinu, Naka, and Pedi – were all members of one family, and the militants also torched their church building and six homes of members.
A Salvation Army outpost is a centre where work is ongoing and where it is hoped a society or corps will eventually develop. The Salvation Army has more than 60,000 members in Indonesia.
Major Erik Kape, Salvation Army divisional commander for Palu (pictured consoling two widows at the victims' funeral) said on Sunday, "The congregation consists of twelve families, with around forty people. They hold regular service every week and Sunday school for the children there."
Early on the morning of 27 November, MIT's leader Ali Kalora and about ten accomplices armed with swords and guns emerged from their jungle hideout and entered the village. Survivors reported that Yasa was having breakfast with his wife Nei when terrorists entered the house and called him out. Nei came out by his side, and Yasa was tied up, decapitated and stabbed in the back. Their son Ulin reported the attack to the police. The other three Christians had their throats slit and one of them was also burned.
Village head Deki Basalulu said that approximately 750 people fled their homes after the attack and took shelter at a safe location about 9 km away. Major Erik Kape and his officers are supporting local members and working with police and government officials who are investigating the incident and have increased protection for villages in the area. Searches are being carried out to find the perpetrators.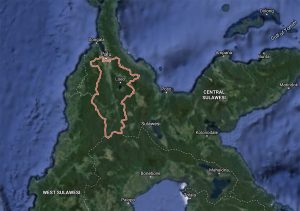 The Jakarta Globe reported that this was MIT's third violent attack in the last three months and that the group has been evading the government's military operation in the Central Sulawesi jungle for the past two years. These attacks were on various groups including medical workers and local farmers, but in recent years Indonesia has seen a rise in violent Islamist attacks on churches.
Following Friday's attack, the BBC said, "Intolerance against Indonesia's Christian minority has been rising as the Muslim-majority country battles Islamist militancy," while Human Rights Watch researcher Andreas Harsono told Reuters, "This attack is another serious escalation against the Christian minority in Indonesia."
Response
Salvation Army Territorial Commander for Indonesia Colonel Yusak Tampai urged Salvationists in the region to "remain calm but alert and careful, spreading a strong message of hope and uniting in prayer to strengthen each other".
General Brian Peddle, international leader of the Salvation Army, stated: "We find the news from Lembantongoa greatly disturbing. Our hearts go out to our people who have been victims of evil, and to the families of those whose faith have caused such harm. I call upon all Salvationists to pray for each person who has been affected, for the continuing witness of our people, and for healing in the communities. I ask our global community to join us in this prayer, and believe that as peace finds its place, evil will be defeated. As General, I assure our people in Indonesia of our deep love and prayers."
On Sunday 29 November, Salvationists throughout Indonesia were called to observe a three-minute silence and to pray for grieving families and congregations and ask for God's peace to be poured on the region.
Indonesia's Coordinating Minister for Political, Legal and Security, Mohammad Mahfud MD, said on Sunday that the government is committed to tracking down those responsible for the attack, and that President Joko Widodo has ordered police and military to conduct raids in areas with known MIT affiliations. "The government will get tough and hunt down the perpetrators through the Tinombala joint (police-military) operation for their senseless violence," he said.
Read more about persecution of Christians in Indonesia in the Church in Chains Indonesia Country Profile.
(BBC, International Christian Concern, Jakarta Globe, Religious Liberty Prayer Bulletin, Reuters, Salvation Army, The Australian)
Share this