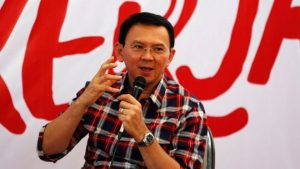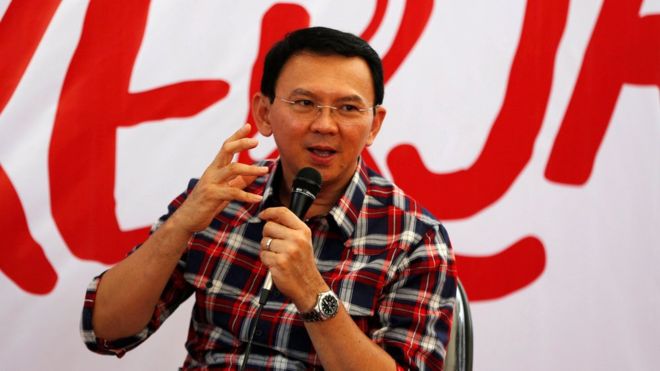 Jakarta's governor Basuki Tjahaja Purnama (pictured), popularly known as "Ahok", has been accused of blasphemy. His trial began on 13 December.
A Christian from the Chinese ethnic minority, Ahok was deputy governor and succeeded Joko Widodo in 2014 when the latter became president. Ahok has been accused of insulting the Quran in his campaign for the governorship elections, to be held in February 2017. If he is found guilty, as most analysts believe he will be, he faces up to five years in prison.
Police said they would not detain the governor, despite calls for his arrest from Islamist groups, but barred him from leaving the country during the investigation. Ahok told reporters: "This is not the end, there will be a court process which we hope will be open. We will still take part in the election."
In a speech in September, Ahok said Islamic groups using a Quranic verse to discourage support for him were deceiving voters. Some interpret the verse as prohibiting Muslims from living under the leadership of a non-Muslim. Islamic groups said he had criticised the Quran and lodged complaints with the police.
On 10 October, Ahok apologised "to all Muslims and anyone who felt offended," saying it had not been his intention to slight Islam or the Quran.
In early November, at least 100,000 people took part in a protest led by the Islamic Defenders Front in Jakarta calling for the governor's resignation and prosecution. Some called for violence and even for his death. The group is threatening larger protests until he steps down. There have also been social media calls for violence against the governor, and the campaign against him has taken on anti-Chinese overtones. (Ethnic Chinese make up about 1% of Indonesia's population of 250 million people.) However, Ahok remains popular for his reformist policies and stance against corruption.
What did Ahok say?
In a speech to city officials on 27 September, Ahok said, "Ladies and gentlemen, you don't have to vote for me because you've been lied to [or fooled] with Surat Almaidah 51 [Sura 5:51] and the like. That's your right. If you feel you can't vote for me because you fear you'll go to hell, because you've been lied to [or fooled], no worries. That's your personal right. These programmes will go forward. So you don't have to feel uncomfortable. Follow your conscience, you don't have to vote for Ahok."
Video footage of the speech went viral on YouTube, and Islamic extremists claimed Ahok had blasphemed against the Quran and Islamic clerics.
Trial begins
Ahok's trial began on the morning of 13 December, with the governor breaking into tears in the courtroom while hundreds of people protested outside. Some 2,000 police officers kept pro- and anti-Ahok protestors apart outside the heavily guarded court. Those opposing him chanted, "Jail Ahok, jail Ahok, jail Ahok now."
A panel of judges will hear from thirty witnesses and see fifty pieces of evidence regarding the charge of defaming the Quran. The trial, which is being televised live, is expected to conclude early in 2017.
(BBC, International Christian Concern, Jakarta Post, Morning Star News, Release International, Time, World Watch Monitor)
Share this