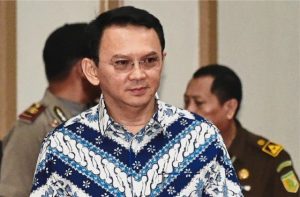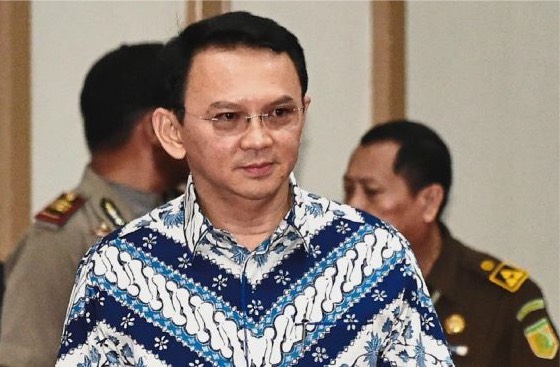 On 9 May 2017, North Jakarta District Court sentenced Jakarta's outgoing governor Basuki "Ahok" Tjahaja Purnama, an ethnic Chinese Christian, to two years in prison for blasphemy.
Ahok's shocked supporters wept and protested, while Islamists gathered outside the court cheered and shouted "God is greatest!" Thousands of police were on the streets to prevent clashes between Ahok's supporters and his Islamist opponents.
Ahok is the first non-Muslim governor of the Indonesian capital for over fifty years. He was previously deputy governor and succeeded Joko Widodo in 2014 when the latter became president.
Ahok was accused of insulting the Quran in a speech to city officials on 27 September 2016, during his campaign for the gubernatorial elections, when he said Islamic groups using a Quranic verse to stop Muslims voting for him as a non-Muslim were deceiving voters: "Ladies and gentlemen, you don't have to vote for me because you've been lied to [or fooled] with Surat Almaidah 51 [Sura 5:51] and the like. That's your right. If you feel you can't vote for me because you fear you'll go to hell, because you've been lied to [or fooled], no worries. That's your personal right. These programmes will go forward. So you don't have to feel uncomfortable. Follow your conscience, you don't have to vote for Ahok."
Video footage of the speech went viral on YouTube, and Islamic extremists claimed Ahok had blasphemed against the Quran and Islamic clerics. They lodged complaints with the police. On 10 October, Ahok apologised "to all Muslims and anyone who felt offended," saying it had not been his intention to slight Islam or the Quran. On 13 November, he was charged with blasphemy.
Before the accusation, Ahok held a large lead in opinion polls. He was popular for his reformist policies and stance against corruption, and had worked to improve traffic congestion and clean up pollution in Jakarta. Following the accusation, however, there were huge street protests against him – in November and December, an estimated 500,000 Muslims attended rallies calling for his resignation and prosecution. There were calls for violence and even for his death. When his trial began on 13 December, hundreds protested outside the heavily guarded court, while 2,000 police officers kept pro- and anti-Ahok protestors apart.
In April 2017, Ahok lost the election to his Muslim rival, Anies Baswedan.
Heavy sentence
Ahok's two-year prison sentence is more severe than prosecutors had asked for. On 20 April, just after Ahok lost the election, prosecutors downgraded the blasphemy charge because of his "significant" contributions to Jakarta. They claimed Ahok had only insulted Muslim leaders, recommended that he should serve no prison time, and suggested that if Ahok were found guilty the judges should sentence him to two years of probation.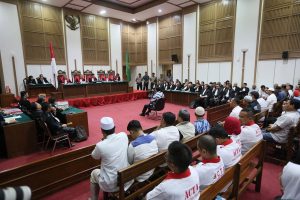 The five-judge panel took a harsher view. Head judge Dwiarso Budi Santiarto told the court, "Mr Purnama was found to have legitimately and convincingly conducted a criminal act of blasphemy, and because of that we have imposed two years of imprisonment. As part of a religious society, the defendant should be careful to not use words with negative connotations regarding the symbols of religions including the religion of the defendant himself."
Judge Abdul Rosyad added that reasons for the heavy sentence included that "the defendant didn't feel guilt" and "the defendant's act had caused anxiety and hurt Muslims".
As soon as the verdict was read out, Ahok was taken into custody and brought to Cipinang Detention Center in East Jakarta. For security reasons, in the early hours of the following morning he was transferred to the National Police's Mobile Brigade Detention Center in Kelapa Dua, Depok. His deputy Djarot Saiful Hidayat will govern Jakarta until the term ends in October.
Ahok's defence lawyer I Wayan Sidarta said the sentence is politically driven and unacceptable. He said, "We respect the decision but we can't accept it… We will file an appeal to challenge the decision."
Islamic groups said they would call for a harsher sentence, as they consider the two-year imprisonment too lenient. Under Indonesian law, blasphemy is punishable by up to five years in prison.
The case is seen as indicative of the growing influence of radical Islam in Indonesia, the country with the world's largest Muslim population. It had been considered an example of a moderate, tolerant, pluralistic democracy, with its foundational state philosophy "Pancasila" giving equal recognition to the major religions.
Reaction
Charles Santiago, chairman of the ASEAN Parliamentarians for Human Rights and a member of the Malaysian Parliament, criticised the verdict, saying: "Indonesia was thought to be a regional leader in terms of democracy and openness. This decision places that position in jeopardy and raises concerns about Indonesia's future as an open, tolerant, diverse society."
The European Union Delegation to Indonesia and Brunei issued a statement calling on the Indonesian government and people to continue their country's long-standing tradition of tolerance and pluralism. It stated, "Indonesia and the EU have agreed to promote and protect the rights… such as the freedom of thought, conscience and religion and freedom of expression. The EU has consistently stated that laws that criminalise blasphemy when applied in a discriminatory manner can have a serious inhibiting effect on freedom of expression and on freedom of religion or belief."
Andreas Harsono of Human Rights Watch described the verdict as "a huge setback" for Indonesia's record of tolerance and for minorities, and Amnesty International said the verdict could tarnish Indonesia's reputation as a tolerant nation.
(Christian Solidarity Worldwide, Jakarta Post, Morning Star News, World Watch Monitor)
Share this