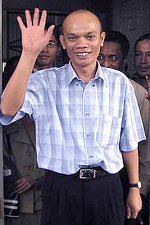 Rev. Rinaldy Damanik walked free from his cell at the Maesa Detention Center in Palu, Sulawesi, on November 9 after authorities granted him an early release.
A smiling Rinaldy greeted the small crowd of friends and reporters who had gathered outside the prison and expressed thanks to those who had campaigned on his behalf during the imprisonment.
Before his arrest on what many believe were false charges, Rinaldy worked tirelessly to provide relief for Muslim and Christian victims of the sectarian violence that erupted on Sulawesi island in the late 1990s. He was also a signatory of the Malino Peace Accord, signed in December 2001.
The breakthrough for Damanik's early release came in August this year, when a respected Muslim cleric, Idrus R. al Habsy, befriended Rinaldy after the cleric's son, Husen, met Rinaldy in prison. When Idrus learned that Rinaldy had worked tirelessly to promote peace, the elderly cleric became a staunch advocate for his release.
On August 20, Idrus sent a letter of appeal to the Minister of Justice and Human Rights, asking that Rinaldy be freed as he was a man of good character. Observers say this letter was vital in securing an early release date.
It seems other Muslims are also supportive of Rinaldy. Compass received a letter from a Muslim refugee in late October, expressing the belief that Rinaldy was innocent. The letter, translated from the original Indonesian, read in part; "I myself am one of the victims amongst the thousands of the Poso violence who were evacuated by Rinaldy Damanik with his Crisis Center. Even though we differed in religion, their hearts and humanitarianism were extraordinary."
The letter also referred to Rinaldy's election as president of the Synod of the Christian Church of Central Sulawesi (GKST) on October 17 while he was still imprisoned: "This election also testifies that Rev. Rinaldy Damanik is innocent and greatly beloved by the people."
Meanwhile, a press release from Open Doors on November 9 said Damanik planned to continue his work with the GSKT Crisis Center. "When I leave, I will continue to do exactly what I was doing before I was arrested," he told an Open Doors staff member.
He also expressed thanks for support provided by Open Doors and other organizations throughout his imprisonment. 'ÄúAll the people, including children, who sent me letters, cards, band-aids, lotion for my skin and little chocolates with Scriptures written on them — you really touched my heart.'Äù (Compass)
Share this