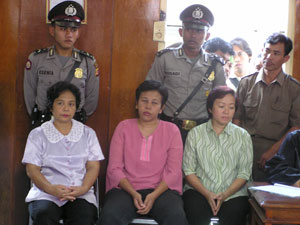 On November 22nd, an Indonesian court denied the appeal of three Sunday school teachers convicted of preaching to Muslim children in western Java.
The three women, Rebecca Zakaria, Eti Pangesti and Ratna Bangun, are serving a three-year prison term after being convicted of proselytizing Muslim children who attended their Sunday school class. Under Indonesia law they can make only one more appeal to have their sentences reduced. The women, who have been in prison for six months, maintain that they have been wrongly convicted.
Rebecca, Eti and Ratna were recently visited in prison by Jay Esteban (Christian World News) who reports: Dr. Rebecca Zakaria said, "God is using us boldly to minister to other inmates here. We have led two women already and even shared to a Muslim woman. It's hard being here but I know I am pleasing God by doing His work."
Ratna Bangun misses her children, 9-year old Joshua and 7-year old Christopher. She says her children hardly ever have the opportunity to visit her, since they are studying in another state. But, her husband visits twice a month.Ratna said, "My children are sometimes crying, asking when I will be back. But they get comforted when they know that their mom is doing Jesus'Äô work."
Eti Pangesti owns the house where the three women held the Sunday school programme that was attended by Christian and Muslim children. In the area, in Harleguis, we spoke to Eti's family. We asked 10 year old Leila how she feels about her mother being in prison. She said, "I'Äôm proud of my mom because she is doing this for God." I saw some of the materials, such as colouring books, used for the Happy Sunday school Program these three women taught. About 20 – 25 children would come over and praise and worship God.
Right now, this place may seem abandoned, but once they get out of prison Eti, Ratna and Rebecca are determined to continue teaching God's Word, not only to children but also to their fellow Indonesians who are not Christians. This, they believe, is God's will for their lives. (Christian World News)
Share this