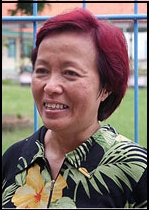 Dr. Rebekka Zakaria (pictured right), Eti Pangesti and Ratna Bangun were released from prison earlier today. The three Christian women were released on parole – having served two years of a three year sentence handed out for running a 'Sunday School' that included some local Muslim children.
The women left the prison at 9am local time and went immediately to be reunited with their families. Rebekka, aged 49, is married and has a daughter and son at university. She and her husband also have an adopted adult daughter Linda, who regularly brought food to the women while they were in prison.
Eti, aged 45, is married to Sutrisno and they have two daughters (aged 21 and 15) and a son, aged eight.
Ratna, aged 40, was looking forward to a reunion with her husband Sembiring and her two sons, Joshua (10) and Christopher (8).
Throughout their imprisonment, the ladies remained powerful witnesses for their Christian faith. They transformed the prison by cleaning washrooms and toilets, scrubbing cells, working on the garden and even painting in bright yellow and blue the walls of the room they used for church meetings.
Within the women's section, quarrelling was reduced and because of Rebekka, Eti and Ratna's calming influence the guards overruled prison protocol and allowed each woman to have her own knife and spoon in their cell.
The case of these ladies sparked concern among the Christian community worldwide resulting in a letter-writing campaign and prayer vigils in many countries including Ireland. (Open Doors)
Share this