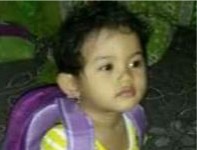 Three-year-old Intan Marbun (pictured) died following a bomb attack on her church on 13 November by an Islamic extremist, and four of her friends were injured.
On Sunday 13 November, an extremist suspected of links with Islamic State bombed Oikumene Church in the Sengkotek district of Samarinda, provincial capital of Borneo's East Kalimantan province. Intan Marbun sustained 75% burns and died the next day. Four other children, aged two and three, were hospitalised. Three of the toddlers (named only as Alvero, Triniti and Anita) sustained serious injuries and the fourth was discharged soon with light injuries.
Church member Johny Hatagalung told International Christian Concern, "Suddenly, at about 10.00 in the morning, we heard an explosion from outside. People were running out using the front and back door of the church. Women were crying and terrified. We saw four children were burned – injured badly – while one was only lightly injured. These children were calling their parents and crying, 'Why they did they do this, Mummy? I did not do any wrong.'"
Police confirmed that the main suspect is a convicted terrorist who was released on parole in 2014. Jo Bin Muhammad Aceng Kurnia (32), also known as Juhanda, reportedly visited a mosque before driving to the church on a motorbike. He was wearing a shirt with the slogan, "Jihad way of life". Arriving at the church, he threw a Molotov cocktail into the car park where children were playing after the service. Kurnia attempted to escape by jumping into a nearby river, but members of the church chased him, made a citizen's arrest and brought him to the police. Reports claimed that between four and 15 others were also arrested in connection with the attack.
The next day, police spokesman Inspector General Boy Rafli Amar said the police were investigating possible links between 15 people and the alleged perpetrator, saying, "We suspect they are connected and have communication links with the perpetrator, Juhanda." He added, however, that no evidence had been found that they were involved in conducting the attack, and that their status was still that of witnesses in the case.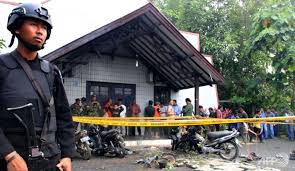 In 2012, Kurnia was sentenced to three and a half years in prison for his involvement in the "book-bomb" plot, in which Islamic radicals planned to post bombs disguised as books to a cultural centre and a church near the capital Jakarta, on the island of Java. He received remission during Eid, when some sentences are traditionally reduced, and was released in July 2014. He was arrested again in September 2014 after he was found with an Islamic State flag in Parepare, Sulawesi, when he was allegedly attempting to find and kill his wife. A resident of Sengkotek, he is said to have moved from Bogor City (60km south of Jakarta) last year.
The bombing of Oikumene Church was the second church attack in Indonesia this year. In August, a suicide bomber failed to detonate his vest at a crowded Roman Catholic church in Sumatra, but injured a priest with an axe before being restrained.
Growing religious intolerance
Indonesia is the most populous Muslim country in the world, and although most Muslims are moderate, the activities of radical groups have been increasing and religious intolerance is on the rise. The Setara Institute for Democracy and Peace has noted that recorded cases of religious violence are increasing significantly in Indonesia on an annual basis. These threats do not only affect the Christian minority: just hours after the church bombing, two bombs were detonated at a Buddhist temple in West Kalimantan, injuring three, and a Roman Catholic church in Java received a bomb threat.
Read more about the background in Church in Chains' Indonesia Country Profile.
(BBC, International Christian Concern, Jakarta Post, Release International, Time, World Watch Monitor)
Share this