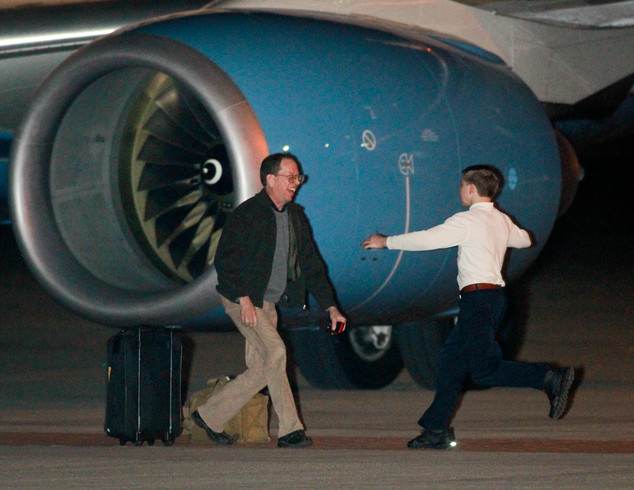 Jeffrey Edward Fowle, an American Christian, returned home to the USA on 22 October following his release from detention in North Korea, where he had been accused of leaving a Bible in a hotel where he had been staying.
Mr Fowle received a joyous welcome from his wife and three children when his plane landed at an air force base in Ohio. He had been held in detention since being arrested during a visit to North Korea in May. North Korean officials had indicated they planned to put Mr Fowle on trial for "perpetrating hostile acts".
While Mr Fowle has not yet publicly spoken about his time in detention in North Korea, a family spokesman said: "We'd like to thank God for his hand of protection over Jeff these past six months. While the family is overjoyed, they are also mindful of the two other Americans still being held – Kenneth Bae and Matthew Miller. Jeffrey is in good health and was treated well by his captors in North Korea." The spokesman thanked the US State Department, the Swedish government and others for helping secure Mr Fowle's release.
"We're thrilled; we're overjoyed," said Jim Shihady, assistant pastor of Bethel Baptist Church, which the Fowle family attends in Miamisburg. "My phone's been ringing. The texts have been coming in, and people wanting to make sure we've heard the good news."
Mr Fowle, along with Kenneth Bae and Mathew Miller appeared in short interviews on CNN in early September, arranged by the North Korean authorities. Each was given five minutes for an interview, monitored and recorded by North Korean officials. All three said they have signed statements admitting their guilt, and they all said they hoped the US government would send an envoy to North Korea to help get them out.
The North Korean government said that they had released Mr Fowle after repeated appeals from President Obama. North Korea made it a condition of Mr Fowle's release that the US government transport him out of the country. An American plane was sent to Pyongyang to collect him.
Other American prisoners
Kenneth Bae (46), a Christian with American citizenship who was born in South Korea, has been in detention since November 2012. He was arrested while leading a tour in North Korea's Rason City and sentenced to 15 years in labour camp for "hostile acts to bring down the government".
Matthew Miller was accused of tearing up his tourist visa and seeking asylum upon entry to North Korea in April 2014. He was sentenced to six years hard labour for "hostile acts".
(CNN, LA Times, MailOnline)
Persecution of Christians in North Korea
Persecution of Christians in North Korea dates back to the Korean War in the 1950s when most Christians fled to South Korea or were imprisoned or martyred, and churches were bulldozed or converted for secular use. Christians meet secretly in homes, usually in small groups of three or four family members, taking precautions such as shading windows and whispering hymns. If discovered, they are sent to labour camp or executed.
In 2014, a UN Commission of Inquiry found that "the gravity, scale and nature" of the violations of human rights "reveal a State that does not have any parallel in the contemporary world". It stated that there were between 80,000 and 120,000 political prisoners (including Christians) and found that severe punishments are inflicted on "people caught practising Christianity".
Click here to read country profile of North Korea
Share this