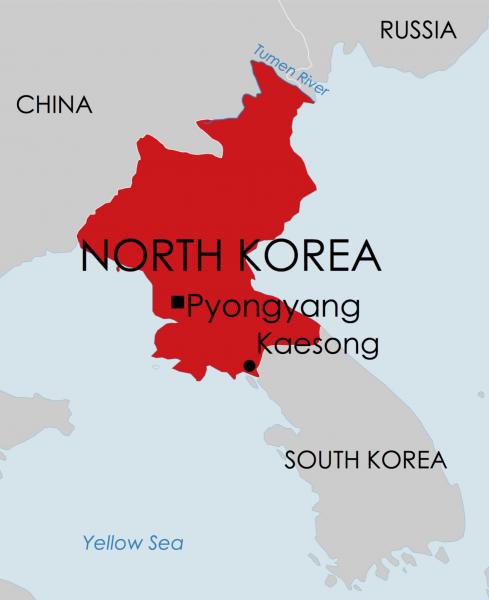 A new report on North Korea provides evidence that freedom of religion or belief is "largely non-existent".
The report, Total Denial: Violations of Freedom of Religion or Belief in North Korea, was released on 23 September by Christian Solidarity Worldwide (CSW). As research inside North Korea is not possible, the report relies mainly on testimonies from North Korean escapees. It presents evidence of brutal persecution of Christians and discrimination against followers of other religions and beliefs, and confirms that North Korean Christians suffer severe persecution, imprisonment, torture and execution.
The report states: "Christians suffer significantly because of the anti-revolutionary and imperialist labels attached to them by the country's leadership. Christians usually practice their faith in secret. If discovered they are subject to detention and then likely taken to prison camps (kwanliso); crimes against them in these camps include extra-judicial killing, extermination, enslavement/forced labour, forcible transfer of population, arbitrary imprisonment, torture, persecution, enforced disappearance, rape and sexual violence, and other inhumane acts. Documented incidents include Christians being hung on a cross over a fire, crushed under a steamroller, herded off bridges and trampled underfoot."
The report refers to the UN Commission of Inquiry's 2014 report on human rights in North Korea (see below), and comments, "The gravity and extent of these abuses were exposed in the groundbreaking United Nations Commission of Inquiry report on human rights in North Korea, published in February 2014 after a year-long investigation. The report calls for accountability for the widespread and grave violations of human rights in North Korea, states that these violations amount to crimes against humanity, and calls for a referral to the International Criminal Court for prosecution for these crimes." The report calls on the North Korean government to acknowledge and implement the recommendations of the UN Commission of Inquiry and to allow UN Independent Experts unhindered access to visit the country.
Practitioners of other religions in North Korea such as Buddhism, Shamanism and Cheondoism – a Korean religion that combines elements of Confucianism, Buddhism, Taoism and Shamanism – also face restrictions and discrimination, but are treated more leniently. Christianity is repressed most harshly because it is viewed as a foreign religion, a means of conducting espionage and gathering intelligence by South Korean and American intelligence agencies, and therefore a security threat. There are four churches in the capital, Pyongyang (two Protestant, one Catholic and one Russian Orthodox), but they are widely regarded as show churches for foreign visitors.
The report also investigates the detention of North Korean refugees in China and the Chinese government's policy of repatriating them to North Korea. Former North Korean security agents have testified that, "The most severe punishment is applied to those who… carry the Bible from China and those Christians who help North Korean refugees in China." North Koreans who have escaped to China, and who are or become Christians, are often sentenced to life imprisonment in North Korean political prison camps, where conditions are brutal and the survival rate is close to zero.
CSW released the report on Save North Koreans Day, during which people around the world delivered letters to Chinese embassies urging China to change its policy and allow North Koreans safe passage through China to sanctuary in South Korea or beyond.
In its conclusion, the report states: "Testimonies from thousands of North Koreans over the decades shed light on the atrocious abuses that amount to crimes against humanity. Horrific accounts of torture, forced labour, starvation, sexual assault and even execution confirm the brutality of a system that despises religious believers and their freedoms. Even once North Koreans have escaped the oppressive regime, they are vulnerable to further harassment, detention and slavery, and forced repatriation from China to North Korea. The violations of freedom of religion or belief in North Korea are among the very worst in the world."
United Nations Commission of Inquiry
In 2014, the UN Commission of Inquiry into human rights in North Korea found that "there is almost complete denial of the right to freedom of thought, conscience and religion as well as the right to freedom of opinion, expression, information and association" in North Korea, as well as possible crimes against humanity being perpetrated against the North Korean people.
The Commission also noted that the regime in North Korea "considers the spread of Christianity a particularly severe threat" and as a result, "Christians are prohibited from practising their religion and are persecuted". Severe punishments are inflicted on "people caught practising Christianity".
(CSW, National Post)
Overseas Christian prisoners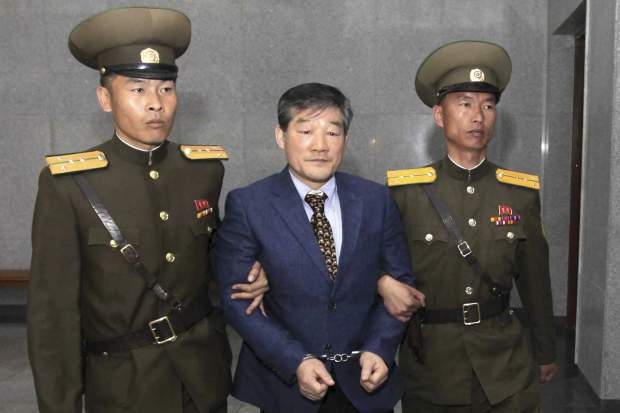 While it is impossible to estimate how many North Korean Christians are in prison, it is known that several foreign Christians in North Korea have been arrested and imprisoned.
Kim Dong Chul (62, pictured) is a missionary who was born in South Korea and became a naturalised US citizen in 1987. He was arrested in October 2015 in Rason City, where he had set up a business. (Rason is a special economic zone bordering China.) He was accused of stealing information, including military secrets, and passing it on to South Korea, and in April 2016 was sentenced to ten years in labour camp for alleged espionage.
Canadian pastor Hyeun-soo Lim (60) travelled to North Korea on a humanitarian mission in January 2015, and has been in detention since his arrest in February 2015. In December 2015, North Korea's Supreme Court sentenced him to life in prison with hard labour after convicting him of numerous charges including attempting to overthrow the government and undermine its social system with "religious activities".
South Korean Presbyterian pastor and former missionary Kim Guk-gi (62) is serving a life sentence on charges of spying. His arrest was announced by North Korea's state news agency KCNA on 26 March 2015, but it is not clear when or where he was arrested. KCNA described him as a "heinous terrorist", alleged he was spying for South Korea's National Intelligence Service and accused him of spreading religious propaganda from an underground church he ran in Dandong, a Chinese port city near the border with North Korea. He had been caring for refugees. In June 2015, the South Korean Ministry of Unification said he had been sentenced to life imprisonment in labour camp.
South Korean Baptist missionary Kim Jung-uk (51) was arrested in October 2013 after entering North Korea with religious materials. He had worked in Dandong for seven years providing aid to North Korean refugees and teaching them from the Bible. North Korean agents infiltrated his network and convinced him to go into North Korea to find out what had happened to some refugees with whom he had lost touch. He did so and was immediately arrested and interrogated. He was charged with attempting to overthrow the regime and spying for South Korea. In May 2014, Kim Jong-uk was sentenced to life in labour camp. KCNA reported that prosecutors had sought the death penalty but the court imposed the life sentence after the pastor had "sincerely repented".
Share this