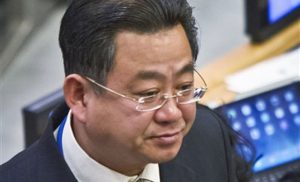 The North Korean government refused to attend a two-hour session of the United Nations Human Rights Council in Geneva on 13 March focusing on human rights abuses in North Korea. Its deputy ambassador to the UN in Geneva, Mr Choe Myong Nam (pictured), stated that the session was "politically-motivated".
At the session, the UN Special Rapporteur on Human Rights in North Korea called for members of the North Korean regime to face justice at the International Criminal Court for crimes against humanity. Tomas Ojea Quintana said that the international community "must be guided by the pursuit of justice and accountability as a core tenet of the United Nations," as he introduced a report on accountability to the session.
The report is the latest step in a push by international and civil society organisations to identify and prosecute perpetrators of what a 2014 United Nations report called "unspeakable atrocities" in "a state that does not have any parallel in the contemporary world".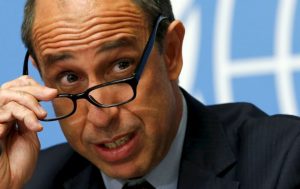 Mr Quintana (pictured)  said that he regretted the decision of the North Korean government to boycott the Council session but stated that he was still seeking dialogue: "There is a need to continue pushing for accountability in respect to crimes against humanity in the DPRK. Our position is a matter of principle, when there are crimes against humanity there is a need to punish those who are responsible for those crimes." He stated that between 80,000 and 120,000 people are held in four known political prison camps in North Korea.
Sara Hossain, a member of the Council's group of independent experts on accountability, said the UN should consider ways of prosecuting those responsible for human rights abuses in North Korea, possibly by creating an international tribunal. "The groundwork for future criminal trials should be laid now," she said.
In a joint statement issued in Geneva, Jubilee Campaign and Christian Solidarity Worldwide thanked the Special Rapporteur for his new report and urged the international community to implement its recommendations in a swift, comprehensive manner.  They affirmed that "Religious believers, and Christians in particular, continue to be sent to political prison camps (kwanliso) purely because of their faith. In these camps extermination, torture, rape and other inhumane acts are committed in a systematic manner.  There is no freedom of religion or belief in North Korea at all."
(Reuters, with additional information from Christian Science Monitor)
Share this