The summits between North Korea and the USA as well as South Korea received plenty of news coverage this year. The denuclearisation talks and peace process on the Korean peninsula have stirred hopes that the difficult situation for North Koreans will improve.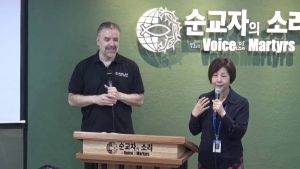 Someone who can provide first-hand information about life on the Korean Peninsula is Rev Eric Foley. He is CEO and Co-Founder, with his wife Dr Hyun Sook Foley, of Voice of the Martyrs Korea, which supports the work of persecuted Christians in North Korea. VOM Korea organises launches of balloons printed with Bible passages into North Korea, broadcasts the Gospel via radio and arranges training for underground North Korean Christians. For many years the Foleys have worked extensively with North Korean Christian defectors who understand the situation inside North Korea and testify to the effectiveness of their activities. Eric spoke in a podcast in November about recent developments on the Korean peninsula.
How have things changed for underground North Korean Christians?
There really hasn't been any change for underground North Korean Christians or for most people in North Korea. The peace talks are not at all related to their daily situation. God has raised up a church in North Korea of about 100,000 believers; 30,000 of them are in concentration camps. Our responsibility is to be one body with that church. There is no political deal that can be made that entitles us biblically to sever ourselves from the body of Christ that God has raised up in North Korea.
Has the peace process been affecting your work of VOM Korea?
In the 17 years since my wife and I founded VOM Korea this was by far the hardest year. Our situation has become so challenging in South Korea, because everything we do, as the South Korean government says, "fouls the air for peace". We have always considered that everything that we do is unpolitical. But keep in mind that in 2014 the North Korean government responded to the UN annual report related to religious freedom by calling what missionaries do "acts of terror". As the South Korean government tries to make peace with North Korea we become people who are associated with known terrorists. These are underground believers who, according to the North Korean government, are actively seeking to undermine the government in North Korea. So this year we faced active opposition to our work on a daily basis from not only North Korea, not only China, but from our own government in South Korea. The forecast is that things won't get better, but will get harder.
What is the greatest need of the church inside North Korea?
The first is to pray for the Lord to strengthen it in its current isolation. North Korean underground Christians are more isolated at this moment than they ever have been. The Chinese church for the most part has broken off relations with the North Korean church because of China's own crackdown and the religious regulations that took effect in February.
Second, I don't think we will see a change in the human rights situation. I think what we will see is a Chinese style move to capitalism and many in the West will breathe a sigh of relief and say: "Ah, wherever capitalism goes, the church is going to have an easier time." Someone forgot to tell the Chinese Christians that because they are living in a world of hurt.
The challenge we see is North Korean Christians who were tortured for Christ inside of North Korea and who, when they come to South Korea, literally every single one of them, is struggling in their faith. When they have come into a situation of prosperity, they feel pressure to work, to make money for their family back in North Korea, they get caught up in the things of the world. Interestingly what they have said to me is: "When we were being beaten, we could withstand that because we had an inner strength. Now it's the inner strength that is being attacked because we are feeling these temptations. Temptations to focus on money and saying that 'I have to be the one to provide for my family and my relatives.'" All of these things are of course true, but Satan has a way to working those temptations up inside of us.
It's an odd prayer request, but we are trying to help North Korean Christians to be prepared for facing economic prosperity. Unfortunately that is often held up as a God and they can participate in those things to the degree that they are loyal to the government. It is a bit of a "mark of the beast" action going on. South Korean Christians are giving economic opportunity that is being mediated to the North Korean people through the North Korean government. The North Korean government is saying that if you participate in the Juche ideology, you can have access to these things. This is a whole new set of challenges for North Korean believers.
Pray for North Korean Christians in their isolation, pray for them in their temptation. Pray for them in these "mark of the beast" moments, that they will remain faithful. They are still being beaten externally and I don't see that changing any time soon. But pray that as a new set of temptations dawns on them, this will not overwhelm them.
(Voice Of the Martyrs Korea)
Share this