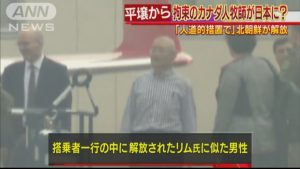 Canadian pastor Hyeun-soo Lim (62) was released on "sick bail" on Wednesday 9 August, after two and a half years in prison in North Korea. On Thursday, a Canadian delegation flew him from Pyongyang to a US military air base in Japan, whence he will fly home this weekend. The image, from a Japanese TV news report, shows the pastor arriving in Japan.
Pastor Lim was arrested in North Korea in February 2015 while on a humanitarian mission, and was sentenced to life in prison with hard labour. He has been suffering from high blood pressure and stomach pains.
Canadian rescue mission
Last week, North Korea suddenly decided to allow a visit from a Canadian special envoy. This came as a surprise, as talks between Canadian and North Korean diplomats at the United Nations headquarters in New York had stalled when the North Koreans asked Canada to name an ambassador or full-time envoy to North Korea in return for releasing Pastor Lim. The Canadian government preferred a special envoy to conduct diplomacy with a limited purpose and time. Also, it was reported that the North Koreans had raised the issue of Pastor Lim's medical bills, which they said ran into tens of thousands of dollars; it is not known whether they were paid before his release.
The Canadian government formed a six-member delegation, headed by Prime Minister Justin Trudeau's national security and intelligence adviser Daniel Jean and including two directors from Global Affairs Canada, two medical doctors and a member of the Canadian Forces.
Two Canadian Forces aircraft set off on Monday for the Yokota Airbase in Japan, a US military air force base in Fussa, near Tokyo, arriving on Tuesday. One plane continued on a two-hour flight to Pyongyang to deliver the delegation before flying back to Japan to wait – Canadian officials did not want the plane to remain in Pyongyang because of "security concerns".
The delegation stayed in Pyongyang from Tuesday evening until Thursday morning and secured Pastor Lim's release. On Wednesday, The Korean Central News Agency reported, "Rim Hyon Su, a Canadian civilian, was released on sick bail according to the decision of the Central Court of the DPRK [Democratic People's Republic of Korea] on Aug. 9, 2017 from the humanitarian viewpoint. He had been under the penalty of indefinite hard labour as he conducted hostile deeds against the DPRK."
About 15 hours after Pastor Lim was freed, one of the planes returned to Pyongyang to collect him and the delegation and take them to the Yokota Airbase in Japan.
Once the pastor had landed in Japan, Canadian Prime Minister Justin Trudeau confirmed he was free in a statement in which he said, "The government of Canada was actively engaged on Mr Lim's case at all levels. Pastor Lim's health and well-being remain of utmost importance to the government of Canada, and we are working to ensure that he receives any required medical attention."
He also thanked Sweden for its assistance in the matter but said "operational security considerations" prevents the government from discussing the matter. The Swedish embassy in Pyongyang often serves as an intermediary for prisoners from countries with no diplomatic ties to North Korea.
Footage broadcast by Japan's TV Asahi showed Pastor Lim walking and speaking with members of the delegation, appearing thinner but in good spirits.
Family reaction
Pastor Lim has not seen his family since 2015 and has never met his granddaughter, but family members have been able to send him letters and blood pressure medication via the Swedish embassy in Pyongyang.
The pastor's son James Lim received word last weekend that a plane carrying senior Canadian officials, a medical doctor, and a letter to North Korean Supreme Leader Kim Jong Un had been dispatched to Pyongyang "at the last minute," according to family spokesperson Lisa Pak. She said that the pastor's health has deteriorated while in North Korean custody and that he has experienced dramatic weight loss.
In its statement, the family expressed gratitude to the Canadian, North Korean and Swedish governments, and added, "We want to thank the global community for the continued prayers and support and we also ask that the world does not forget the people of North Korea."
Background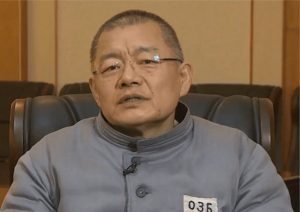 Pastor Hyeun-soo Lim is a Canadian citizen who emigrated from South Korea in 1986 and was arrested in North Korea in February 2015, while on a humanitarian mission. At his trial in December 2015, Pastor Lim was convicted of numerous charges including attempting to overthrow the government to establish a religious state. In December 2015, the Supreme Court sentenced him to life in prison with hard labour.
Hyeun-soo Lim is a pastor at the 3,000-member Light Korean Presbyterian Church in Toronto. He stepped down from his role as head minister to devote himself to humanitarian work in North Korea, which involved distributing aid to nursing homes, day-care centres and orphanages, and running businesses to raise profits for aid projects. Since 1997 he has made more than one hundred visits to North Korea.
Read Pastor Lim's Prisoner Profile
(CBC, CNN, Toronto Star)
Share this