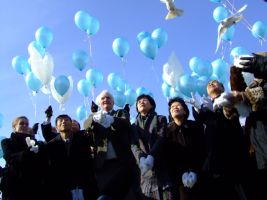 On the centenary day of the Pyongyang (now capital of North Korea) Great Revival, the South Korean Church proclaimed an International Year of Prayer for North Korea in 2007. The announcement was made at the Seoul Olympic Gymnastic Stadium before an audience of 15,000. During the event, balloons were released as a symbol of peace (pictured).
The Christian Council of Korea proclaimed: " A hundred years ago God started the flames of repentance and revival in Pyongyang Jang Dae Hyun Church, but His work did not stop there. As the miracles of the revival spread from Pyongyang across the Korean Peninsula, Pyongyang became known throughout the worldwide Church as 'ÄòThe Jerusalem of the East'Äô.
"We are aware, however, that in this day North Korea is in a time of deep suffering; that her people face great hardship and that many have died as a result. We mourn with those who mourn and are deeply concerned for the welfare of the North Korean people.
The proclamation came as the US-based World Bible Translation Center (WBTC) said it continues to investigate the execution of a North Korean evangelist for apparently possessing and distributing WBTC'Äôs Easy-to-Read Version Korean New Testaments. Officials said that "details are sketchy regarding the nature and circumstances of the evangelist'Äôs death." (CSW)
CCFC will be supporting the Year of Prayer for North Korea and will be encouraging Christians in Ireland to join a special Global Week of Prayer in the week beginning 25th June.
"We call on all churches and Christians around the world to pray urgently for North Korea during 2007. We urge for fervent prayer for an end to the deprivations and sufferings, and for the day to come when the love of God and the blessing of salvation breaks out once again throughout the nation and touches the lives of the people of North Korea."
Share this