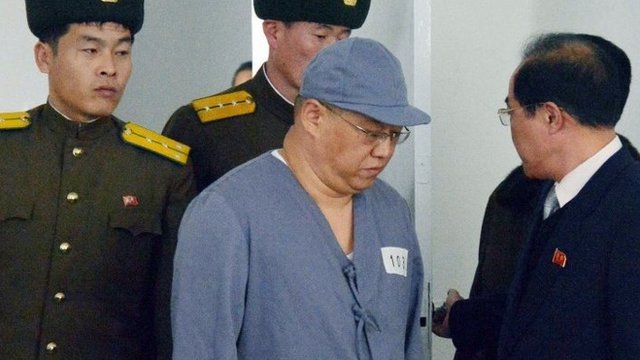 Kenneth Bae, an American Christian who has been imprisoned in North Korea since November 2012, has appealed for American government action during a strictly-managed televised press conference held at Pyongyang Friendship Hospital.
At the brief press conference held yesterday (Monday 20 January), Mr Bae apologised and said he committed anti-government acts. He wore a grey cap and inmate's uniform with the number 103 on his chest and was under guard during the appearance. It is not unusual for prisoners in North Korea to say after their release that they spoke in similar situations under duress.
Click here to watch a video report of the press conference
Kenneth Bae was escorted into the small room by two North Korean soldiers and read from a prepared statement. Speaking in Korean to a small group of foreign correspondents, he said, "I, availing myself of this opportunity, call on the U.S. government, media and my family to stop linking any smear campaign against the Democratic People's Republic of North Korea (DPRK) and false materials with me, making my situation worse… I hope that I will be pardoned by the DPRK and go back to my family. I request the U.S. government, media and my family to pay deep concern and make all efforts to this end…
"The vice president of United States said that I was detained here without any reason and even my younger sister (Terri Chung) recently told the press that I had not committed any crime. I think these comments infuriated the people here enormously. And for this reason, I am in a difficult situation now. As a result, although I was in medical treatment in the hospital for five months until now, it seems I should return to prison. And moreover there is greater difficulty in discussions about my amnesty."
The American government reacted swiftly to the press conference by offering to send Robert King, U.S. special envoy to North Korea, to Pyongyang. "We hope this decision by DPRK authorities to allow Kenneth Bae to meet with reporters signals their willingness to release him," the official told Reuters on condition of anonymity. "We have offered to send Ambassador King to Pyongyang to secure Mr Bae's release. We have asked the North Koreans this and await their early response."
Kenneth Bae's family has also reacted to the press conference. His sister, Terri Chung, said, "We understand that Kenneth has been convicted of crimes under DPRK laws. Our family sincerely apologises on Kenneth's behalf… we humbly ask for your mercy to release my brother." Ms Chung said that, as she viewed the video of the press conference, she could see that her brother was distressed.
Background
Kenneth Bae was arrested in November 2012 while leading a tour in North Korea's Rason City. His tour company, based in China, had organised several previous tours to North Korea. Kenneth Bae had been living in China with his wife and three children.
For some time, the reasons for his arrest were unclear and it was not known whether they related to his Christian faith. Apparently he was known to feed North Korean orphans during his visits. It was reported that his computer hard disk contained "delicate information" (possibly pictures of orphans), considered an act of anti-North Korean propaganda.
In April 2013, the North Korean news agency stated that "Mr Bae committed crimes aimed to topple the DPRK with hostility toward it". It was also alleged that he took part in evangelism activities. He had shared during a 2009 sermon at a church in the USA that he hoped, through prayer and worship, to bring down North Korea's walls, in a project he called "Operation Jericho". Mr Bae was sentenced to 15 years in labour camp.
He was transferred to hospital in August 2013 due to failing health. He suffers from diabetes, an enlarged heart, liver problems and back pain, and since his arrest has lost a lot of weight.
In October 2013, his mother, Myunghee Bae, travelled from her home in USA to visit her son in hospital.
(Associated Press/Reuters)
Share this