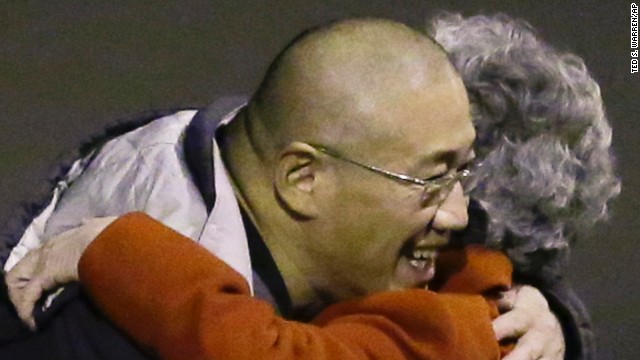 On Saturday 8 November, Kenneth Bae was released after almost two years in detention and was flown on a US government plane to America, where he was greeted by his mother.
Kenneth's release came after James Clapper, the US director of national intelligence, travelled to Pyongyang with a letter from President Obama to North Korea's leader, Kim Jong-Un, asking for the release of Kenneth and another American prisoner, Matthew Miller (who had been accused of spying – it is believed that he tore up his tourist visa and sought asylum upon entry to North Korea earlier this year). The two men got off the plane and walked into the welcoming arms of smiling relatives who were waiting on the tarmac.
Kenneth told reporters: "It's been an amazing two years, I learned a lot, I grew a lot, lost a lot of weight – in a good way – but I'm standing strong because of you and thank you for being there in such time as this." When asked about his health, Kenneth said he was still recovering. His family had expressed concern about his health during his detention, saying he had diabetes, an enlarged heart, deteriorating vision and back and leg pains.
He thanked President Obama and the US State Department for securing his release, and added, "I'd like to thank the DPRK North Korean government, as well – allowing me to come home and be united with our family."
On Sunday, Kenneth's sister Terri Chung said Kenneth was in better shape when he arrived than his family expected. She said he had spent about six weeks in a North Korean hospital before he returned. "That helped. As you know, he had gone back and forth between the labour camp and hospital," she said.
Late on Saturday night, Kenneth met with family and friends for a meal. His sister said, "Our family loves food so we talked a lot about food. We didn't ask him a lot of questions. We mostly wanted to hear from him."
Kenneth's release comes less than a month after North Korea freed Jeffrey Fowle, an American Christian who had been accused of leaving a Bible in a hotel where he had been staying.
Background
Kenneth worked as a tour operator and was arrested in November 2012 while leading a tour in North Korea's Rason City. He was sentenced to 15 years in labour camp for "hostile acts to bring down the government". His tour company was based in China, where he had been living with his wife and three children, and he had organised several previous tours to North Korea. Apparently Kenneth was known to feed North Korean orphans during his visits, and it was reported that his computer hard disk contained "delicate information" (possibly pictures of orphans), considered an act of anti-North Korean propaganda. It was also alleged that he took part in evangelism activities.
(AP, CNN, Sky News)
Reaction
David Turner, Director of Church in Chains, welcomed the news, saying: "The release of Kenneth is wonderful news and is an answer to the prayers of many people around the world. We pray that he will recover from his ordeal and know God's blessing on his life.
"We continue to encourage prayer for the many thousands of Christians whose names are not known who remain imprisoned in dreadful conditions in the labour camps of North Korea. We urge that the international community focus on efforts to help end the suffering of the North Korean people."
Earlier this year, a UN Commission of Inquiry into North Korea found that "the gravity, scale and nature" of the violations of human rights "reveal a State that does not have any parallel in the contemporary world". It stated that there were between 80,000 and 120,000 political prisoners (including Christians) and found that severe punishments are inflicted on "people caught practising Christianity".
Read the North Korea Country Profile
Share this