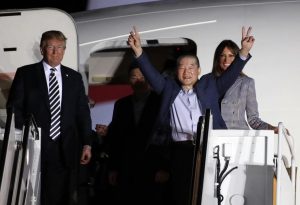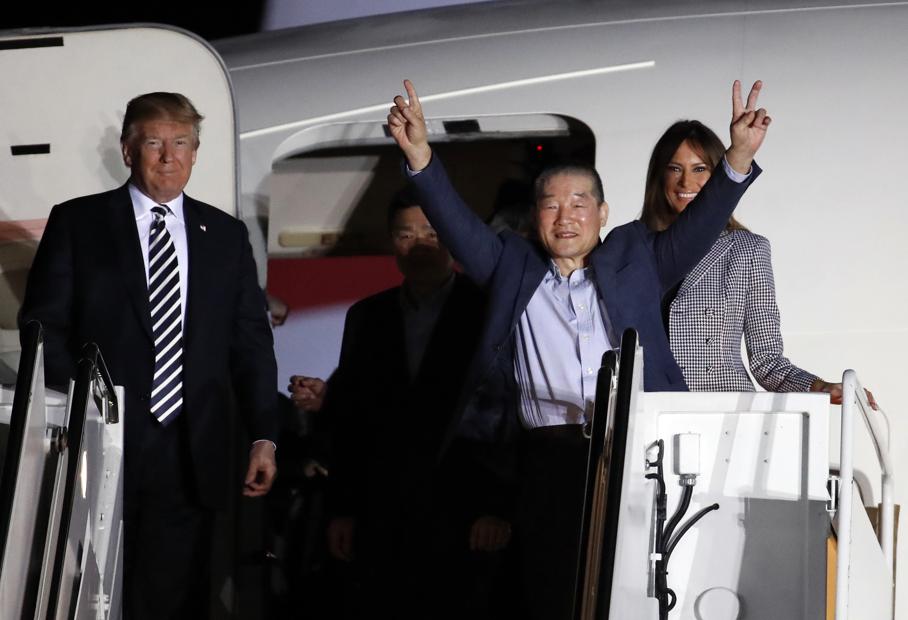 On 9 May, US businessman and missionary Kim Dong Chul was released, along with US citizens Kim Hak-song and Kim Sang-duk (also known as Tony Kim), who had also been detained in North Korea. They flew overnight to the USA with Secretary of State Mike Pompeo, who had been visiting Pyongyang to arrange a meeting between President Trump and Kim Jong-un, and were met by President Trump at Andrews Air Force Base near Washington.
As they emerged from the plane, the released men appeared to be in good health, waving their hands and flashing peace signs, Kim Dong Chul spoke briefly with reporters: "It's like a dream and we are very happy. We were treated in many different ways, I had to do labour. But when I got sick I was also treated by them."
The three had released an earlier statement saying: "We would like to express our deep appreciation to the United States government, President Trump, Secretary [of State Mike] Pompeo and the people of the United States for bringing us home.
"We thank God and all our families and friends who prayed for us and for our return."
Later, US Vice President Mike Pence revealed that Secretary of State Mike Pompeo told him that, during a refuelling stop in Anchorage, Alaska, "one of the detainees asked to go outside the plane because he hadn't seen daylight in a very long time".
No family members or friends of the three freed Americans were on hand for their arrival in the early hours of Thursday due to protocol reasons, according to an official who added that the men had to first debrief intelligence officials before heading to their homes.
White House Press Secretary Lindsay Walters said that the three men will go to Walter Reed Medical Center in Maryland for further evaluation and medical treatment. The White House said the prisoners were freed as a gesture of goodwill ahead of the planned meeting between President Trump and Kim Jong-un.
Prior to their release, the three men had been moved from their places of detention to a hotel in the North Korean capital, Pyongyang.
Kim Dong Chul (64), a missionary born in South Korea, had lived in Yanji, China, 10 km from the North Korean border since 2001. He set up a hotel services company in Rason City (a special economic zone on the North Korean side of the border), and commuted daily. He was arrested in October 2015 and was serving a ten-year sentence in a North Korean labour camp for alleged "unpardonable espionage". He "confessed" to his crimes at a televised press conference in Pyongyang in March 2016. Kim's wife and two daughters had been living in Yanji and were not permitted to visit him in the labour camp.
Kim Hak-song and Kim Sang-duk
The two US academics who were freed with Kim Dong Chul both worked at the Pyongyang University of Science and Technology and were arrested a year ago for "hostile acts" and "espionage". Kim Hak-song, who was arrested on 6 May 2017, had previously described himself as a Christian missionary. Two weeks earlier, Kim Sang-duk (also known as Tony Kim) was arrested on espionage charges after spending a month at the university. He had been involved in humanitarian work including helping an orphanage.
Pyongyang University of Science and Technology was founded in 2010 by a Korean-American Christian entrepreneur, and has been funded by US and South Korea Christian charities.
 (ABC/BBC/CNN/Guardian/NBC/New York Times/Sky News)
Share this