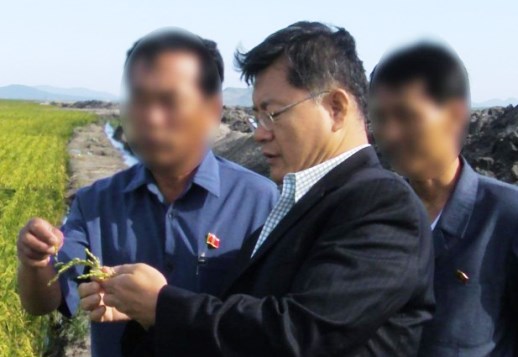 Canadian citizen Hyeun-soo Lim, a pastor involved in aid distribution in North Korea, has been sentenced to life in prison.
On 16 December, North Korea's Supreme Court sentenced Hyeun-soo Lim, a Korean-Canadian pastor who had been in detention since February 2015, to life in prison with hard labour. The sentencing was announced after a brief trial during which he was convicted of numerous charges, including an attempt to overthrow the government. China's official Xinhua news agency reported that the court said Lim had attempted to overthrow the government and undermine its social system with "religious activities" for the past 18 years.
Lim is head pastor at the 3,000-member Light Korean Presbyterian Church in Toronto. Since 1997 he has made more than one hundred visits to North Korea for humanitarian work, distributing aid to nursing homes, day-care centres and orphanages. The image shows him looking over one of Light Presbyterian Church's agricultural projects in North Korea.
In January, Lim's church lost contact with him in North Korea and it was thought he had been quarantined as part of the government's attempt to prevent the spread of Ebola. In February it was revealed that he had been arrested and charged with trying to overthrow the North Korean government to establish a religious state. In July, he was forced to read out a public confession at a press conference.
A source that cannot be named for security reasons told World Watch Monitor, "Pastors like Lim, who have seen so much of how North Korea treats its prisoners, cannot easily be released. Unless Canada makes an offer North Korea can't refuse, I don't see Lim returning home anytime soon."
Church spokeswoman Lisa Pak said that two consular officials from Canada's embassy in Seoul and a translator were allowed to meet Lim on Friday 18 December and reported that he was in good spirits and health. She said he had received medication for an unspecified health condition.
The church has organised a petition asking UN Secretary-General Ban Ki-moon, who is arranging a potential visit to North Korea, to seek Lim's release.
(Charisma News, World Watch Monitor)
Share this