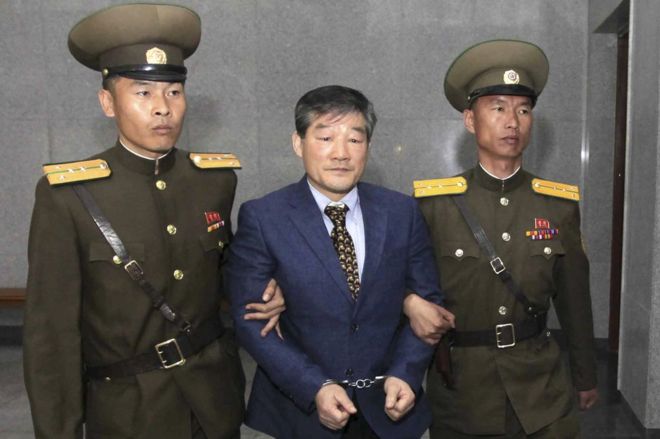 Kim Dong Chul, a missionary who was born in South Korea and is a naturalised US citizen, has been sentenced to ten years in labour camp for alleged "unpardonable espionage". The image shows him being escorted to his Supreme Court trial on 29 April.
Kim Dong Chul (62) was accused of stealing information, including military secrets, and passing it on to South Korea. He was arrested in October 2015 in Rason City, where he had set up a business; Rason is a special economic zone bordering China. The authorities say that when he was arrested he had a USB stick containing military and nuclear secrets.
At a press conference in Pyongyang in March, Kim apparently confessed, telling reporters he had been paid by South Korean intelligence officers and that he had been introduced to them by US intelligence. In North Korea, forced confessions by foreign prisoners are common.
North Korean state news agency KCNA reported:"The accused confessed to all crimes he had committed and gathered and offered information on its party, state and military affairs to the South Korean puppet regime, which are tantamount to state subversive plots and espionage."
Kim has appealed for help to South Korea and the US, where he lived in Fairfax, Virginia. He is one of six foreigners known to be held by North Korea at present, several of them Christians.
Recognised
North Korean defector Ma Young-ae, who works as a missionary in New York, saw Kim on television and recognised him as a missionary she had met in 2007, when he was making speeches around California and Virginia and seeking donations. She said Kim had told her he was sending medical aid into North Korea and going in and out of Rason City.
"I was shocked to see his face on TV," she said. "He told the churches that he was a missionary working in North Korea and sending stuff from China into the North to help poor North Koreans."
A pastor named Simon Park also recognised Kim. The pastor said he had accompanied Ma Young-ae and Kim to several church gatherings in the US, and said that Kim frequently visited North Korea.
(BBC, Christian Today, Guardian, Reuters, Voice of America)
Share this