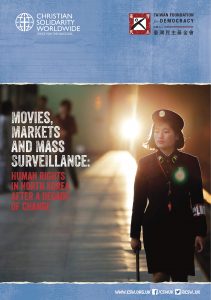 Christian Solidarity Worldwide has published a new report on human rights in North Korea, Movies, Markets and Mass Surveillance: Human Rights in North Korea after a Decade of Change, which was launched in the UK parliament on 5 February at an event hosted by the All Party Parliamentary Group (APPG) on North Korea.
The report comes ten years after CSW published North Korea: A Case to Answer, A Call to Act, a report that called on the United Nations to establish a Commission of Inquiry (COI) to investigate alleged crimes against humanity in North Korea. In 2013, the UN Human Rights Council did establish a COI on North Korea, which in 2014 concluded that the "gravity, scale and nature" of the violations of human rights in North Korea "reveal a State that does not have any parallel in the contemporary world".
At the launch of the new report, CSW's East Asia Team Leader Benedict Rogers noted the increasing availability of movies and other media in North Korea, but he and the other speakers stressed that the regime's human rights violations continue. In terns of the right to freedom of thought, conscience and religion or belief there is no change and any sign of any belief other than total devotion to the Kim family is severely punished.
APPG co-chair Lord Alton said, "There are 30 Articles in the Universal Declaration of Human Rights. It's hard to think of any that are not being violated in North Korea."
The report is based on information from over one hundred respondents including North Korean escapees and organisations run by them, the UN office in Seoul, South Korean officials, South Korean international human rights organisations, and academics and journalists. It examines changes in economic modes of survival, information flows from outside North Korea, defection patterns, freedom of expression and criticism of the state, and changes in human rights in law and practice.
Findings
The report finds that although the regime has not changed, the people have. More North Koreans are accessing outside information, despite the risk, and although much of it takes the form of entertainment it has had a dramatic impact, making North Koreans aware of injustice and state limitations and prompting critical analysis of state propaganda.
Survey respondents consistently reported that there is no religious freedom. Only six percent felt that there was any more freedom for religious believers in 2017 than in 2007. A 25-year-old interviewee from North Hamgyong Province said, "I had never heard about God in North Korea. I saw a Buddha in a temple once, but I never met any Christians. If someone was found to be a Christian, they would be immediately shot."
Researchers found that the motivation for defection has changed. One escapee told CSW, "In the beginning, people defected because they were starving. They went to China to find food. But it is different now. For example, I was doing ok in North Korea. I could live. But more and more people want freedom, opportunities and hope."
The report finds that corruption and bribery have become more widespread, and notes that one of the most striking changes in the life of many North Koreans has been the shift from state dependency to reliance on private trading in semi-tolerated grey markets – "survival of the fittest", as the report puts it. Illegal market trading and smuggling across the border with China have become a lifeline for many and a source of relative prosperity for some, and the visible gap between rich and poor is increasing.
Researchers heard anecdotal evidence that international condemnation and the COI investigation may be having an effect on the regime. The report states, "Although limited and impossible to verify, we should not be too quick to dismiss anecdotal evidence or perceptions that there may have been some, albeit very small, positive changes. At the same time, however, we should be careful in drawing general conclusions. It would be dangerous and inaccurate to suggest there has been any significant improvement in human rights protection."
North Korean Christians do not pray for the regime to be overthrown
Rev Dr Eric Foley, who works with North Korean refugees, says that while it is tempting to pray for Kim Jung-Un to be removed from power, others would take his place, and this is not the way North Korean Christians are praying. Dr Foley and his wife Rev Dr Hyun Sook Foley (pictured) founded Voice of the Martyrs Korea in 2003 and are, respectively, its Chief Executive Officer and President.
"I have never encountered a North Korean Christian who has prayed for the regime to be overthrown – not once in 15 years," said Dr Foley. "Underground Christians are praying that Kim Jong-Un will come to know Christ. Perhaps North Korean Christians know better than the rest of us, that it is not a change of government that will bring peace, but the entry of the Prince of Peace into our hearts. We should follow their lead and pray not for regime change, but for a change of the heart of the regime."
He continued, "When those missiles are pointed at us, should we simply pray that things are returned to the way they were before? No! The status quo means Christians experience torture and imprisonment for the sake of their faith. The focus of the world should not simply be on restoring a situation that is stable for us but unacceptable for Christians. We should pray that it becomes possible for the first time in their lives for Christians in North Korea to practise their faith without recrimination. These missiles should remind us how little attention we pay to North Korean Christians… The international community may be on a knife's edge right now, but to be a Christian in North Korea is to live on that knife's edge."
There are an estimated 100,000 Christians in North Korea, of whom 30,000 are in concentration camps.
(Christian Solidarity Worldwide/Release International/Voice of the Martyrs Korea)
Share this