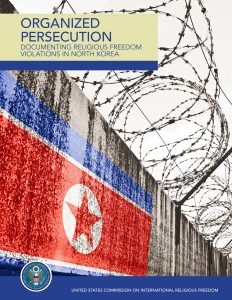 A new report by the United States Commission on International Religious Freedom describes the North Korean government's religious freedom violations as an "absolute denial of religious freedom".
The report, "Organized Persecution: Documenting Religious Freedom Violations in North Korea", was launched on 18 August and is based on interviews conducted in 2020 and 2021 with survivors, witnesses, and perpetrators of religious freedom violations, the perpetrators being former North Korean government officials. The majority of interviewees had escaped from North Korea in 2019.
The investigators identified 68 cases of the state prosecuting individuals for their religion or belief or for their association with religious persons: shamanic adherents accounted for 43 cases, Christians 24 cases, and one case related to Cheondogyo (a pantheistic Korean religion). Victims suffered human rights violations including arbitrary arrest and detention, torture and the denial of life.
In the introduction to the report, its authors state: "This report demonstrates that the North Korean government poses an acute challenge to its citizens' enjoyment of their right to freedom of thought, conscience, religion, or belief. Violations of this right in North Korea are ongoing, egregious, and systematic, and they are perpetrated and overseen by the active mobilization of organs of the North Korean government. For this reason, we find that the state is the source, the rationale, and the tool for the religious freedom violations documented in this report."
They go on to say, "We find that the denial of religious freedom is absolute. Our findings establish that the persecution of individuals exercising their right to religious freedom in North Korea goes well beyond a government neglecting its duty to respect, protect, and fulfil the right to freedom of thought, conscience, religion, or belief. It also extends beyond a government persecuting one or more social groups for their religion or belief. Rather, the situation that exists is one where the state enforces the absolute denial of religious belief through the active mobilisation of organs of the government."
The report is organised into five sections:
Organizational Structure of Religious Freedom Violations
In this section, the authors demonstrate how "the organizational structures imposed by the North Korean government are designed to prevent knowledge of the right to religious freedom as ever existing, and to identify and purge any discovery of religious adherence at its source". They describe a system of "absolute oversight" that "creates a reporting network whereby all citizens in North Korea effectively come under the oversight of the Central Committee of the Workers' Party of Korea through a regional committee, whether one is studying at a college or working as a security official. In turn, this system actively reinforces the denial of religious freedom at the most granular level of every citizen's daily life."
One of the interviewees is quoted as saying, "We thought of people who possessed Bibles as spies, as the state would sternly warn us on how Bible possession was a political offense."
Compliance, Enforcement, and the Denial of Religious Freedom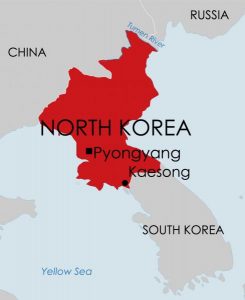 In this section, we learn that several law enforcement institutions may take part in arrests: the Prosecutor's Office, Border Security Command, Ministry of People's Security and Ministry of State Security. Border Security Command is responsible for patrolling North Korea's northern border region, and the authors of the report write that border guards have been documented as arresting and subjecting those caught in possession of Bibles to torture and cruel, inhuman or degrading treatment.
Interviewees who had been detained by the Ministry of People's Security or the Ministry of State Security said they experienced violations of international human rights law including torture, an absence of due process (such as the right to a fair trial) and inhumane conditions, including inadequate food. Many of these conditions apply to all prisoners, not only to those detained for their religious beliefs. Those accused of "crimes" related to religious beliefs can be sentenced to various periods up to life in prison camp for up to three generations of their family.
Denial of Religious Freedom from Birth
The authors state, "At its most essential level, North Koreans experience the denial of the right to religious freedom from birth" and go on to quote interviewees who described being warned in school against missionaries – including one who said, "People even use the word 'missionary' as a curse word." Missionaries are demonised to the extent that one interviewee stated, "I used to think about how scary the missionaries and practitioners are… We would think of [religious people] as villains and murderers."
Indoctrination against Christians in childhood is followed by a life lived under "a structured and systematic form of political surveillance and accountability", a system that involves monitoring and reporting of suspected religious adherents.
Arbitrary Arrest, Detention, and the Absence of Due Process and Fair Trial Rights
The introduction to this section states that "In practice, there are very few instances where the arrest of a North Korean exercising his or her freedom of religion or belief may be considered lawful." The authors go on to document "credible accounts of the execution of Christian adherents", detailing examples of cases that occurred over many years.
In 2015, six people convicted of practicing Christianity were executed by firing squad in Yeonan County, South Hwanghae province, with up to forty others sentenced to life in a political prison camp (a case that had been investigated over several years using "infiltrator agents"), while in 2011 a woman and her grandchild were executed by firing squad in Onsong County, North Hamgyong province. In 2002, three members of a family were arrested following four months of surveillance and wiretapping, and after thirty days of pre-trial interrogation they were sentenced to execution for conducting Christian worship.

The photo, which is from Korea Future, shows a public trial for individuals accused of anti-socialist behaviour, which students (including children) and local residents were required to attend. Photos of trials are very rare and taken at great risk – it is illegal to capture and share such images with the outside world.
Torture and other Cruel, Inhuman, or Degrading Treatment or Punishment
In this final section, the authors state that they documented "multiple instances of torture and other cruel, inhuman, or degrading treatment being perpetrated by North Korean pre-trial investigation officers and correctional officers against persons suspected of religious adherence". They detail the various forms of torture used and state, "These acts were committed for the purposes of obtaining information or a confession, for the purpose of punishment, or for the purpose of intimidation during the interrogation phase of detention."
One interviewee, a former detainee, stated: "Ministry of State Security tells you that you will be forgiven if you confess. In reality, anything related to religion or South Korea, even by the smallest margin, or taking money from religious institutions, will land you in prison for life."
Another former detainee recounted how a prisoner who had been arrested for smuggling a Bible from China to North Korea was locked in solitary confinement, saying: "I think they were going to be executed… The correctional officers screamed that 'how dare the prisoner sneak a Bible into North Korea and harm comrade Kim Il Sung's ideology'."
Conclusion: violations "designed to remove all traces of Christianity"
The authors of the report conclude that North Korea's violations of religious freedom are "seemingly designed to remove all traces of Christianity and to repress and reduce the influence of Shamanism in society" and also state, "The campaign to exterminate all Christian adherents and institutions in North Korea has been brutally effective, and continues through the work of the Ministry of State Security, networks of informants that stretch into China, the presence of 'no-exit' political prison camps, executions, and an educational and organizational system that deters adherence through schools, workplaces, and neighborhoods."
The authors end with a challenge to the international community, pointing out that "This reality and the centralization of religious and belief persecution offers opportunities for the international community to pursue justice, accountability, and behavior modification where persons and organizations responsible for documented religious freedom violations can be identified."
(Korea Future, US Commission on International Religious Freedom)
Share this