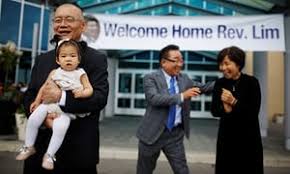 On Sunday 13 August, Canadian pastor Hyeon-soo Lim (62) was welcomed home to Light Presbyterian Church in Mississauga, Ontario with flowers, cheering, hugs and standing ovations. He had been released on "sick bail" on 9 August after two and a half years in labour camp in North Korea.
Arriving in the church foyer, Pastor Lim raised both hands and smiled widely at the waiting crowd. He later told the packed hall, "I believe Kim Jung Un let me go as a gesture of goodwill in the face of so much rhetoric" and thanked the congregation for its support and the Canadian and Swedish governments for their involvement in his release.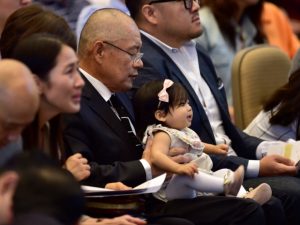 During the service, Pastor Lim sat beside his wife at the front of the hall, holding his one-year-old granddaughter, who was born while he was in captivity. At the end of the service he spoke for half an hour, addressing the congregation – one of Canada's largest – in Korean, his native language. He had prepared a one-page statement (see below) but added details as he described a harsh life of hard labour in solitary confinement, digging holes for eight hours a day, including when the ground was frozen in winter. He spoke of "overwhelming loneliness" and of eating 2,757 meals in isolation, not knowing how or when his ordeal would end.
The pastor said that during the first two months his health suffered badly and his weight dropped from 90 kg to 67 kg, but he said his condition had since improved. Recently, he had suffered from high blood pressure and stomach pains, but the doctor who examined him on release found him to be healthy.
He said that during his first year in captivity he had no Bible, so he read more than one hundred books and watched over three hundred films, all about North Korea. He then received Korean and English Bibles, which he read five times, memorising more than seven hundred verses since he was not allowed to write.
During his imprisonment, Pastor Lim stuck to a routine of prayer, singing and Bible reading, once he had a copy. He sang to God for more than eight hours on each of the 130 Sundays of his imprisonment. Following his release, another pastor at Light Korean Presbyterian Church, Jason Noh, commented: "Mentally, psychologically, spiritually, he's the same, he's great."
After the service, Pastor Lim said, "I'm really very deeply grateful and moved. Because of all the love, compassion, comfort and prayers from the Canadian people I believe I am here. It's a miracle for me to be here today."
Pastor Lim's statement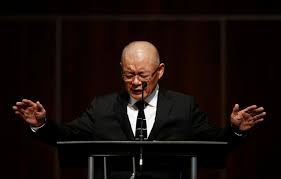 Pastor Lim's church provided a translation of the statement he prepared for the service:
I am so grateful that God has allowed me to be here with everyone here today. I want to earnestly thank Prime Minister Trudeau for helping in my return home. I also extend a very special thanks to Special Advisor Daniel Jean and the delegation for securing my release. In addition, thank you to Minister Freeland, former Minister Dion, Senator Yonah Martin and all the incredible staff in Ottawa. I also want to thank the Swedish Government for being Canada's protecting power in North Korea, and for playing a critical role in my release.
I am grateful for my church community. I'm indebted to all the churches in Canada, the United States and in Korea – the many friends around the world who have prayed daily for two years and seven months, until the moment I was released and returned home. Through those prayers and the efforts of all involved, I finally came home yesterday, landing at 10 am on Canadian soil. It still feels like a dream. Truly, this is all by the grace of God.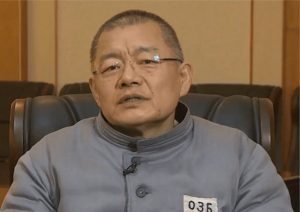 I was sentenced to death by North Korea but the sentence was commuted to life of hard labor. That too, was God's grace, and gave me tremendous peace. 
From that moment, there were days of overwhelming loneliness. From the first day of my detainment until the day I was released, I ate 2,757 meals in isolation by myself. It was difficult to see when and how the entire ordeal would end. But this isolation also gave me the opportunity to spend an extended time of solitude with God.
 During the winter, I had to dig holes that measured one metre wide and one metre deep. The ground was frozen. The mud was so hard that it took two days to dig one hole. It was incredibly challenging. My upper body was sweating; my fingers and toes were frostbitten. I also worked inside a coal storage facility, breaking apart frozen coal.
In the spring and the summer, I worked outside, eight hours a day, in the scorching sun. One year of this difficult labor took a toll on my body and I was admitted to the hospital for two months. There would be three other occasions where I would be admitted to the hospital in serious condition.
During my time there, I read over one hundred books on North Korea and began to grasp and gain a deeper understanding of the seventy-year history that formed the nation. I also read the Bible in both English and Korean five times and memorized over 700 Bible verses. I worshipped alone for 130 Sundays. While I was laboring, I prayed without ceasing. I will share more details with you later.
There were many difficult moments but it was during these times that God gave me the strength endure and persevere. There were moments of discouragement, resentment, and grumbling but that soon changed into courage, joy, and thanksgiving. I learned to fully accept all of this as a form of God's love and discipline to make me stronger. By God's perfect and sovereign timing, I was released, returned home and here with you today.
Background
Pastor Hyeun-soo Lim is a Canadian citizen who emigrated from South Korea in 1986 and was arrested in North Korea in February 2015, while on a humanitarian mission. At his trial in December 2015, Pastor Lim was convicted of numerous charges including attempting to overthrow the government to establish a religious state. The Supreme Court sentenced him to life in prison with hard labour.
Hyeun-soo Lim is a pastor at the 3,000-member Light Korean Presbyterian Church in Mississauga, near Toronto. He stepped down from his role as head minister to devote himself to humanitarian work in North Korea, which involved distributing aid to nursing homes, day-care centres and orphanages, setting up noodle and tofu factories and farming and educational programmes and running businesses to raise profits for aid projects. Since 1997 he has made more than one hundred visits to North Korea.
Read Pastor Lim's Prisoner Profile
(Reuters, The Globe and Mail, Toronto Star)
Share this