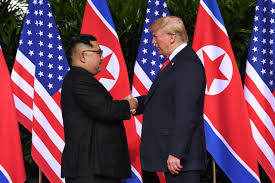 The summit between Donald Trump and Kim Jong-un on 12 June has been closely analysed around the world for its implications for US/North Korean relations, for peace on the Korean peninsula and for human rights.
Both leaders signed a joint statement pledging to work towards denuclearisation of the Korean peninsula, but the text says merely: "The DPRK commits to work toward complete denuclearisation of the Korean Peninsula," with no stated timetable, deadline or verification demands, although President Trump told reporters that US sanctions would remain in place until there was verification of denuclearisation.
North Korea signed agreements with the US in 1993 and 2005 that went further, including an inspection regime and a verification process, but Pyongyang failed to comply with the terms of those agreements.
President Trump announced an end to joint military exercises with South Korea, a concession has been interpreted as a win for President Kim.
What does the summit mean for human rights, and in particular for Christians?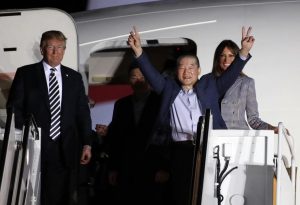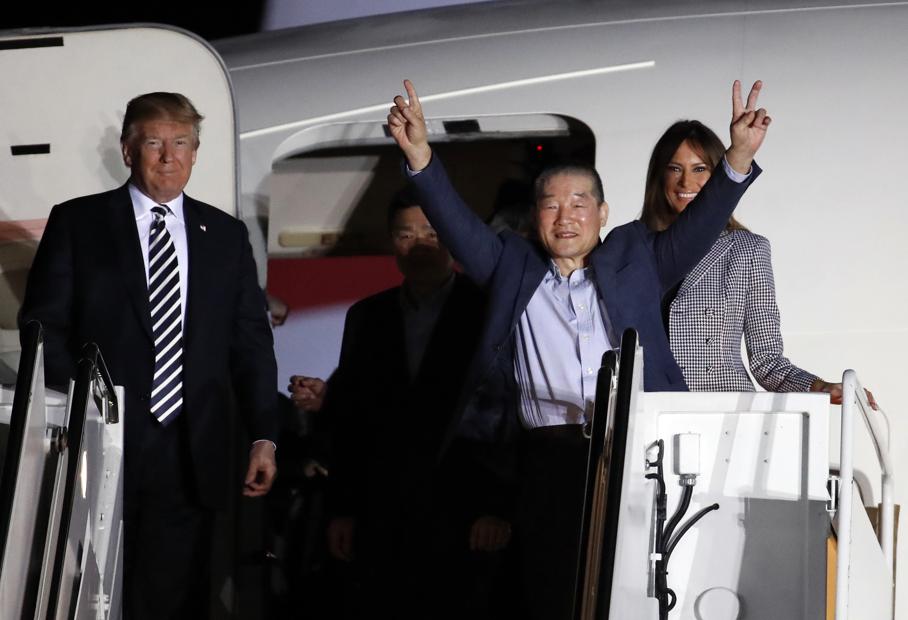 Ahead of the summit, President Trump achieved freedom for the three US citizens who had been imprisoned in North Korean labour camps. The three men, including missionary Kim Dong Chul (pictured), were released on 9 May and flown to the US with Secretary of State Mike Pompeo, who had been visiting Pyongyang to arrange the summit.
Apart from that success, however, many analysts do not believe the summit has achieved anything for human rights. Nothing emerged to give any hope to Christians imprisoned for their faith and held without trial in the kwan-li-so concentration camps, where conditions are rather different from those experienced by the US prisoners, who were tried, sentenced and held in labour camps. The legitimisation of the Supreme Leader as a statesman on the world stage, and President Trump's congratulatory attitude, make it unlikely that President Kim will feel any pressure to change his regime.
In the hour-long press conference that followed the signing, President Trump described Kim Jong-un as "a very talented man… who loves his country very much" and said the two leaders had developed a "very special bond". Asked if he had raised human rights during their talks, the US president replied that it had only been discussed "briefly", and said: "He is very talented. Anybody that takes over a situation like he did at 26 years of age and is able to run it and run it tough," though he added that he did not say he was "nice".
Running North Korea "tough" has involved ordering the assassination of anyone perceived as a threat, including members of his own family, and presiding over a regime that holds over one hundred thousand political prisoners under brutal conditions, among them an estimated thirty thousand Christians.
Responding to a question from Jon Karl of ABC News about whether North Korea's oppression of its people is worse than that of any any other regime, President Trump replied: "It's a rough situation over there; there's no question about it, and we did discuss it today pretty strongly. I mean, knowing what the main purpose of what we were doing is – de-nuking – but we did discuss it in pretty good length. We'll be doing something on it. It's rough; it's rough in a lot of places, by the way, not just there, but it's rough and we will continue that, and I think ultimately we will agree to something, but it was discussed at length. Outside of the nuclear situation, [it was] one of the primary topics."
The Asia Director of Human Rights Watch, Phil Robertson, told the BBC World Service that North Koreans have been "betrayed" by President Trump's failure to include human rights provisions in the agreement.
However, a Christian human rights advocate who escaped from North Korea and lives in the UK told Open Doors International, "Hopefully denuclearisation will lead to more money available to feed the everyday citizens of North Korea and provide them with a better life. President Trump said that the human rights issues are a continuing process. I am glad it is now on the agenda. But Kim Jong-un has to be committed to it too. Kim Jong-un has not yet referred to the prison camps or religious freedom. This is an ongoing process and I will continue to advocate and pray for it."
Letter to Kim Jong-un
In the run-up to the summit, 52 organisations including coalitions representing over 300 NGOs from Asia, Latin America, Africa, Europe, and North America wrote to Kim Jong-un, urging him to make "lasting improvements to the dire human rights situation" in North Korea.
The letter of 7 June urged several actions, including that Kim Jong-un act on United Nations human rights recommendations, increase international human rights engagement, respond to findings of the 2014 UN Commission of Inquiry, end abuses in detention and prisons and accept international humanitarian aid with monitoring to ensure it reaches those in need.
Signatory organisations included Amnesty International, Human Rights Watch, Christian Solidarity Worldwide, International Christian Concern and several groups that focus on North Korea.
Benedict Rogers, East Asia Team Leader of Christian Solidarity Worldwide, one of the signatory organisations, commented: "It is essential that the human rights crisis in North Korea, which the United Nations Commission of Inquiry described as 'without parallel' and as amounting to crimes against humanity, is addressed as part of engagement with the North Korean regime."
(Christian Solidarity Worldwide/Guardian/Irish Times/World Watch Monitor)
Share this