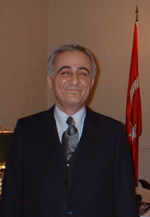 Earlier this month, the Ambassador of Turkey, Mr Ahmet Berki Dibek (pictured), received the Free to Choose petition from David Turner and Louis Hemmings (CCFC). The petition was accompanied by a dossier documenting individual cases of the violation of human rights of Christians in Turkey during the past year.
The petition document, which has been signed by 2,185 people in Ireland calls for Muslims who choose to convert to another faith to be free to do so without having to face a lifetime of fear as a result.
The Irish petition is part of an international petition (Co-ordinated by Barnabas Fund) which has been signed by 88,890 people from 32 countries.The international petition was presented to Louise Arbour, UN High Commissioner for Human Rights, in Geneva in late July.
Mr. Dibek examined the dossier and discussed the following points.
EU Accession Talks: Mr. Dibek said that Turkey was in the process of reforming its laws and constitution in light of its application to join the EU. He said that he had met a number of other NGO's to discuss human rights issues in Turkey. He suggested that Turkey's reforms in seeking to join the EU will serve as a model to other Muslim countries who are planning reform.
Ephesus Protestant Church at Selchuk: He said that he was familiar with the area as he had a holiday home near there. Another Embassy official joined us with a report (in Turkish) which had been received from the Turkish government (in response to our letter of 12 October). Mr. Dibek read the letter and gave us an impromptu translation:
"A private residence is being used by a congregation who have erected a sign outside with details of the services. This is misinforming people as it is not a designated church as a necessary permit is required. The sign was subsequently removed and replaced elsewhere. An inspection by local officials revealed seven additional buildings in that area in breach of planning regulations."
Designated Places of Worship: Mr. Dibek said that Christians, Jews and Muslims must worship in designated areas – these restrictions are particularly in place to curb small meetings of Muslim extremists.
He stressed that any reforms made to facilitate Christian worship and expression would also apply to Muslims (99% of Turkey's population) and that the Turkish government greatly feared the infiltration of Muslim extremists from outside Turkey. He said that the current laws were not designed to curb religious freedom but to protect Turkey's vulnerabilities.
Mr. Dibek commented that "proselytising"in Turkey was a minefield due to Muslim sensibilities. When David Turner suggested that a government minister should publicly state that it was acceptable for a Muslim to change their religion, Mr. Dibek laughed and said that such a statement would make him unelectable.
The cordial 75 minute meeting ended with Mr. Dibek returning to the Selchuk issue and saying, "If oppression is involved at Selchuk, we will correct it". He also indicated that he would be open to a further meeting.
Share this