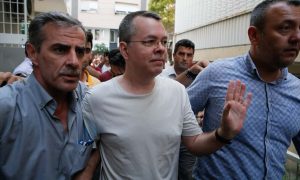 On 25 July, the 2nd Criminal Court of Izmir ruled that US Pastor Andrew Brunson be released from prison and kept under house arrest until his next court hearing in October.
The court ruling came one week after the previous court hearing, when the judge had ruled that Andrew should remain in prison. The new ruling states that Andrew should not leave his house and he is also forbidden from leaving Turkey. The Daily Sabah newspaper (often described as an arm of the Turkish government) reported that "the jurors had reconsidered the decision based on the plea by Brunson and his lawyer over his health and had come to the conclusion that his detention could be maintained effectively through house arrest given the circumstances".
Following the court's decision, Andrew was released from prison at around 5.30 pm local time. His release was shown live on Turkish television as he was put into a vehicle outside the prison and driven away guided by a police motorbike escort. When he arrived at his home in Izmir, members of his congregation from Izmir Resurrection Church greeted their pastor with cries of "We love you, Andrew!".
US Secretary of State Mike Pompeo welcomed Andrew's release, saying, "We welcome long overdue news that Pastor Brunson has been moved from prison to house arrest in Turkey, but it is not enough. We have seen no credible evidence against Mr Brunson  and call on Turkish authorities to resolve his case immediately in a transparent and fair manner."
State Department Ministerial Conference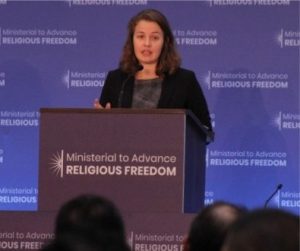 The day before Andrew's move to house arrest, his daughter Jaqueline Funari spoke about her father's imprisonment at the US State Department's first-ever Ministerial Conference to Advance Religious Freedom in Washington.
"Every single thing in his life centres around his faith, which is why seeing these absurd charges brought against him has been extremely painful for my family to witness," she said.  "I'm still waiting for my father to walk me down the aisle. I'm still waiting for my father-daughter dance."
She also spoke about visiting her father in prison last year. "I remember how broken and tired and desperate he sounded as he tried to fight with every fibre of his being to be in a room where he could at least hug us and hold us for the only hour he would have seen us for the entire year," she said. "Even when this ordeal is over, he'll never be the same person he was. That said, I cannot tell you how proud I am of my father and what an example of Christ's love he continues to be to the world as he is wrongly imprisoned for his faith."
Background
Andrew has been in prison in Turkey since October 2016, accused of membership of the Gülen movement (which the Turkish government blames for the failed coup in July 2016) and of links to the outlawed separatist Kurdistan Workers' Party (PKK). Islamic cleric Fethullah Gülen lives in Pennsylvania, and President Erdoğan has said Turkey will hand Andrew over to the US authorities if they extradite Fethullah Gülen. The US refuses to do so. Before his arrest, Andrew led Izmir Resurrection Church on the west coast of Turkey for 23 years, with his wife Norine.
(Christianity Today/Daily Sabah/Hurriyet/Middle East Concern/World Watch Monitor)
Share this