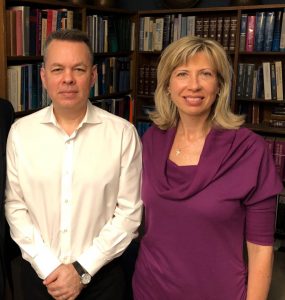 On 12 October, a court in Izmir ordered the release of US Pastor Andrew Brunson (pictured yesterday with his wife Norine). His lawyer Ismail Cem Halavurt said that Andrew's electronic tag would be removed and that his client was now a "free man". Following the decision, Andrew was taken from the court in a high-speed convoy.
According to a senior American government official, he is expected to be flown first to Germany for a full medical evaluation at the US Ramstein Air Force Base before flying to the US.
Andrew's release came in the afternoon session of the court hearing. Despite several witnesses changing their previous testimony against him, Andrew was convicted and sentenced to five years in prison for intentionally aiding terrorist organisations, but this was reduced to three years and one month in prison, with the final year suspended. As he has been imprisoned since October 2016, this meant that his release was ordered on the basis of time served. Andrew's lawyer has stated that he will appeal the prison sentence.
The court's decision comes a day after much speculation that a deal had been done between the US and Turkish governments to secure Andrew's release. A source told CNN that US officials believed they were on the verge of securing Andrew's release. After the verdict was announced, US President Donald Trump tweeted "My thoughts and prayers are with Pastor Brunson, and we hope to have him safely back home soon!"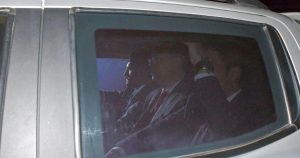 Before the verdict, Andrew (pictured arriving at court) was able to meet his wife Norine in the courthouse, where they held hands and talked about the possible outcome. "I am an innocent man. I love Jesus. I love Turkey," said Andrew, wearing a dark suit and red tie.
In the morning session of the hearing, three witnesses for the prosecution and a witness for the defence testified. The prosecution witnesses withdrew previous statements that they had made. One of the witnesses, Büşra Fatma Ün, said she had never heard before that the members of the illegal PKK were treated at a hospital owned by a friend of Andrew and were then sent to Syria to fight. Another witness, who was unidentified, said he had never seen members of the outlawed FETÖ group in a prayer house with Andrew but had heard it only as a rumour. Another unidentified witness also backtracked from his claim that a Syrian member of Andrew's congregation was making bombs for terror attacks. Andrew reiterated his innocence in the final hearing, asking the court to acquit him.
Christians in Turkey praise God for Andrew's release and request prayer that:
the Lord will continue to strengthen Andrew as he recovers from this ordeal
he will soon be reunited with his family
Christians in Turkey would not be intimidated by this case but would maintain a clear witness
(CNN/Hurriyet/Middle East Concern/Rudaw)
Share this