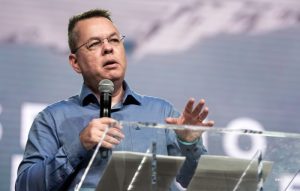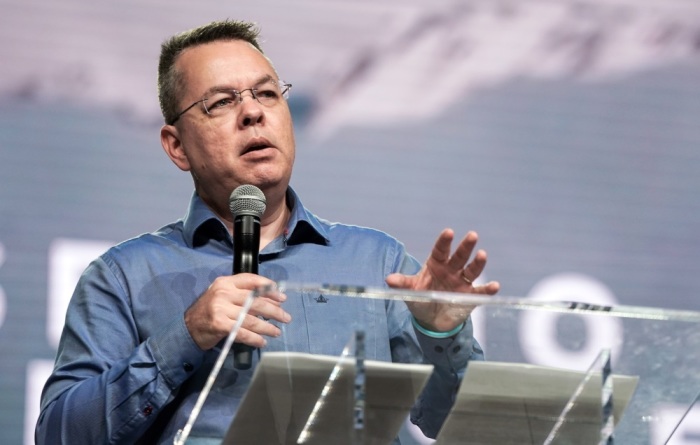 Pastor Andrew Brunson and his wife Norine have spoken publicly about the persecution they endured in Turkey, where Andrew was imprisoned for two years on false charges of terrorism and espionage. The couple, originally from North Carolina in the USA, led a church in Izmir for 23 years before being detained under deportation orders in October 2016. Norine was released after twelve days, but Andrew remained in prison until October 2018.
On 10 June 2019, they spoke about their experiences to thousands gathered in Birmingham, Alabama for the Pastors' Conference of the Southern Baptist Convention.
Norine said she focused on keeping prayer going for her husband while he was in prison and encouraging his faith. Speaking of her work on government diplomacy, she said, "I was the persistent widow. I knocked on every door, probably many times. I probably made a pest of myself."
Andrew said there were times when he felt suicidal but that the Word of God sustained him, particularly Psalm 118. For a while he was not allowed to have a Bible in his prison cell and when he was finally able to read one it was dry to him, though it was comforting to have the Bible physically present. He ended up spending a lot of time in Philippians and 2 Timothy, and was especially encouraged by Paul's words about finishing the race of faith well.
Norine was allowed to visit Andrew for about 35 minutes each week, when they would speak by phone through reinforced glass.
"She was a lioness," Andrew said of her, recounting how she would build him up and speak truth to him, even rebuking him at times.
Norine explained, "I think the difficulty is there are no promises [in Scripture] when it comes to persecution. There are no promises except that we will have persecution; there's no promise of an outcome."
"I had run after the presence and intimacy with God for years and I tasted it," Andrew said, noting that it was a brutal, confusing struggle. He recalled praying, "God, if I come out of this I'm going to have a testimony of my weakness and of Your strength."
He said he was surprised by how much the ordeal "broke" him, but then he read more about missionaries who were persecuted for their faith and wanted to die during the abuse they endured, such as Adoniram Judson, the first Protestant missionary sent from North America to preach in Burma.
"This is the reality of suffering and persecution," Andrew explained. "It's very, very difficult… it stretched me beyond what I could handle, but there was grace and there were a lot of prayers sustaining me."
He said his perspective only changed when he shifted his focus about what legacy of faith he would pass on to his children and resolved to fight for his faith.
"A tsunami of prayer"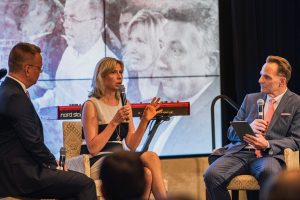 On 1 May 2019, Andrew and Norine spoke of their experiences to hundreds of leaders gathered at a dinner in Washington on the eve of the National Day of Prayer. They were interviewed at the event, which was held in the Museum of the Bible, by National Day of Prayer President Ronnie Floyd (pictured with the couple).
Andrew said he struggled to remain faithful to God during his imprisonment, facing greater challenges after every triumph. "For years I had run after the presence of God, and I had tasted it many times. And then in prison it's as if it all left," he said. "'Where are you God?' God is silent. I don't sense His presence. I know there was grace as I look back. I was so weak, without grace I would not have come through. But it wasn't a felt grace, and this really surprised me. I was really broken again and again."
Norine said, "I tried to pray according to the words of promise the Lord has given us specifically through the years. I tried to align myself with those, and claim those, and pray through them."
"Every week Norine would tell me people are still praying for you and in fact it's growing," said Andrew. "Knowing you were praying for me is really what took me through from week to week."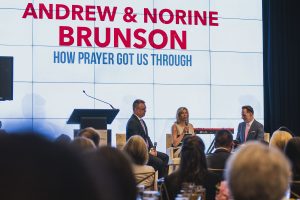 He said that throughout his struggles and crises of faith he kept talking to God and seeking His face, "returning to Him again and again". He added that among the lessons he learned was the primacy of communion with God: "The fundamental need that we have, the fundamental and most important thing is that devotion, intimacy. And Jesus said that's the most important thing. And yet so often we drift from it."
Andrew and Norine both spoke of their expectation of a spiritual harvest in Turkey. "I think we're going to see that harvest. I expect to see it in my lifetime," said Andrew. "Your prayers brought me out. But there was something greater that God was doing. There was a tsunami of prayer crashing into Turkey."
"Not only did Andrew come out," said Norine, "but there's going to be just a massive turning to the Lord in the coming years."
US Vice President Mike Pence made a speech at the dinner in which he said  Andrew's "witness, testimony and faith impacted people all over this country, and really all over the world."
(Baptist Press/Christian Post)
Read Andrew Brunson's Prisoner Profile.
Share this