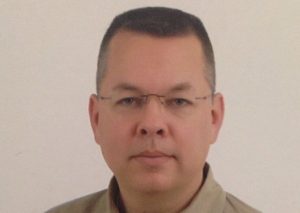 American pastor Andrew Brunson remains in prison in Turkey a year after his incarceration began. He was detained in Izmir on 7 October 2016 and accused of links to the Gülen movement, which the Turkish government describes as a terrorist organisation and blames for the failed coup of July 2016.
He is one of an estimated 50,000 people jailed in an attempt to identify and prosecute those responsible for the failed coup. Those imprisoned include judges, prosecutors, military personnel, opposition party politicians, journalists, teachers and other civilians.
Andrew comes from North Carolina and is a member of the Evangelical Presbyterian Church. He and his wife Norine have led the Izmir Dirilis (Resurrection) Church, on the west coast of Turkey, for 23 years. Visitors to Andrew in prison have said he is suffering from depression over being unjustly imprisoned. In September, he wrote a worship song (see below), which his wife has made available for publication.
President Erdoğan suggests prisoner swap
On 28 September, President Recep Tayyip Erdoğan said Turkey would free the pastor if the US extradited Muslim cleric and political activist Fethullah Gülen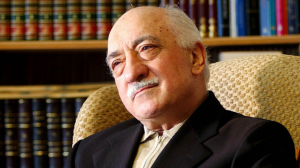 (pictured), who lives in Pennsylvania and is blamed by the Turkish government for orchestrating the attempted coup. In a speech at the presidential palace in Ankara, President Erdoğan said, "Give him [Gülen] to us. Then we will try him [Brunson] and give him to you."
Reuters reported that US officials, speaking on condition of anonymity, said the Turkish government has yet to provide enough evidence for the US Justice Department to act.
Asked about President Erdoğan's suggestion of a swap, US State Department spokeswoman Heather Nauert said, "I can't imagine that we would go down that road." She added, "We continue to advocate for his release. He was wrongfully imprisoned in Turkey, and we'd like to see him brought home."
Prosecutors demand four consecutive life sentences
In December 2016, Andrew was accused of "membership in an armed terrorist organisation". However, since late August he has faced new, more serious charges of spying and insurgency, with prosecutors demanding he receive four consecutive life sentences.
On 24 August, he was connected by video link from prison to a judge in the 2nd Criminal Court in Izmir, who read out allegations from the chief prosecutor's office that Andrew had obtained confidential political and military information for espionage purposes, to overthrow the Turkish parliament and government and undermine the constitutional order of the state.
According to the state-run Anadolu news agency, investigations by the chief prosecutor's office had submitted new evidence. Andrew denied all the charges and told the court, "I have never in my life met with a member of the Gülen movement. I have never attended any of their meetings. I do not have a single link with FETO [the Fethullah Gülen Terrorist Organisation]… I started a church; I am a man of religion who did this with the state's knowledge. My aim is to tell about Jesus Christ. I didn't do espionage. I demand an explanation as to when, where and how I conducted espionage." Neither Andrew nor his lawyer has had access to his file or any evidence submitted.
USCIRF delegation visits Andrew
Recently, almost exactly a year after Andrew was detained, he received a visit in prison from Sandra Jolley and Kristina Arriaga, vice chairwomen of the United States Commission on International Religious Freedom (USCIRF). The pastor told them, "I wish to thank everyone who is advocating and praying for me. Knowing that I am not forgotten is important to me."
After the visit, Kristina Arriaga said, "The government of Turkey has fabricated charges against Pastor Brunson, largely based on a purported 'secret testimony'. He should be released immediately."
USCIRF reports that Andrew was initially confined to a cell meant to accommodate eight prisoners but crowded with 21, and that he has since been moved to Kiriklar Prison in Izmir, where he is confined 24 hours a day to a cell with two others accused of being members of the Gülen movement. He is reportedly suffering from the effects of sustained stress and has lost over 23 kilos.
Worship song
You are worthy, worthy of my all
My tears and pain I lift up as an offering
Teach me to share in the fellowship of your suffering
Lamb of God you are worthy of my all.
You are worthy, worthy of my all
Adopted as a son, a brother to my King
Indeed I will share in your glory if I share your suffering
Jesus, you are worthy of my all.
You are worthy, worthy of my all
But my heart faints, drowned in sorrow, overwhelmed
Make me like you, cross-bearer, persevering, faithful to the end
To stand the trial and receive the crown of life.
You are worthy, worthy of my all
This is my declaration in the darkest hour
Jesus, the Faithful One who loves me, always good and true
You made me yours, you are worthy of my all.
I want to be found worthy to stand before you on that day
With no regrets from cowardice, things left undone
To hear you say, "Well done, my faithful friend, now enter your reward"
Jesus, my Joy, you are the prize I'm running for.
You are worthy, worthy of my all
You are worthy, worthy of my all
What can I give to the Son of God, who gave himself for me?
Here I am, you are worthy of my all.
(Middle East Concern, Reuters, USCIRF, World Watch Monitor)
Read Andrew Brunson's Prisoner Profile
Share this