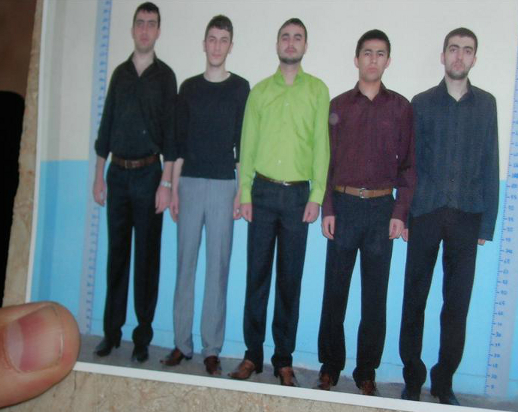 Four of the five suspects on trial for murdering three Christians in Turkey's southeastern city of Malatya have named the fifth suspect as the sole killer.
The four men, now in their late 20s and each facing three consecutive life sentences, made their final defence appeals in court on 9 September. They all accused fellow defendant Emre Gunaydin of acting alone when he tortured and knifed to death two Turkish converts to Christianity, Necati Aydın (35) and Uğur Yüksel (32), and Tilmann Geske (46), who was German. Each of the four declared they did not take part in the murders. Suspect Salih Gurler told the Malatya First High Criminal Court, "Emre Gunaydin killed them one by one, mercilessly." The suspects are pictured, left, in a photograph from 2008.
The hearing was the 107th in the case, now in its eighth year.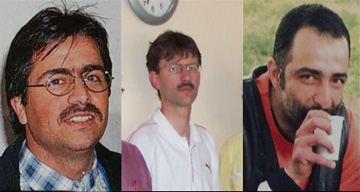 The three Christian men were murdered on 18 April 2007 at the Zirve Christian Publishing House where they worked in Malatya – the publishing house printed Bibles and other Christian literature. The Christians were tied to chairs, blindfolded, stabbed and had their throats slit. Pictured below, left to right, are: Necati Aydƒ±n, who left a wife and two small children; Tilmann Geske, who left a wife and three children; and Uƒüur Y√ºksel, who left a fiancáe. Necati Aydƒ±n was the pastor of a local church they all attended.
The four defendants testified that Gunaydin had coerced them, through intimidating personal threats, to join him on what he said would be an office raid. Salih Gurler stressed Gunaydin's "irritable" personality and habit of always carrying a knife, and said he had flaunted his close relations with the local police. Suspect Cuma Ozdemir said, "When he told us that his older brother and father were mafia, we began to be afraid of him."
According to the other suspects, Gunaydin indoctrinated them against Christian missionaries, accusing Protestant house churches of working against the Turkish state in collusion with Kurdish militants. He told them he planned to raid the Zirve office to confiscate documents and computer files that he said would show the Christians' "secret agenda" against Turkey and Islam.
The other men tried to refuse but, according to suspect Abuzer Yildirim, Gunaydin threatened them, saying: "There's no turning back; they won't leave you and your family alone… The state knows you and your family. If you don't want something to happen against your family, come."
Gunaydin showed them handguns, knives, ropes and gloves, which – according to the other men – he explained were just "to protect ourselves". Cuma Ozdemir stated, "Emre never said anything to us about murder. 'ÄòWe will take the documents and leave,' he said… While [the murders] were happening, I wanted to leave, but the door was locked. So I waited by the window in shock!"
All five suspects were arrested at the scene. After spending seven years in a high-security prison, although they have never been convicted, in March 2014 they were released to house arrest by the Malatya First High Criminal Court, and fitted with electronic tracking devices. Trial hearings have been held every few months since then.
The court based its decision to release the suspects on a new law, part of a judicial package passed by the Turkish Parliament on 21 February 2014, that decreased from ten years to five the detention limit for terrorist suspects on trial who have not yet been convicted. The law went into effect on 6 March 2014.
Emre Gunaydin is expected to present his final defence statement at the next hearing on 21 October.
Christians discouraged
According to Soner Tufan, spokesperson for Turkey's Association of Protestant Churches, the judiciary handling of the Malatya case has discouraged and disillusioned Turkish Christians. He said, "We would like to see these murders judged fairly. They killed our brothers very violently, so the court's judgment should show that these were not just murders. It was a hate crime. And of course we would like to know who was really behind these five young men accused of the killings. But up to now, we see no results on this, despite having found the best lawyers and worked hard to reveal the truth."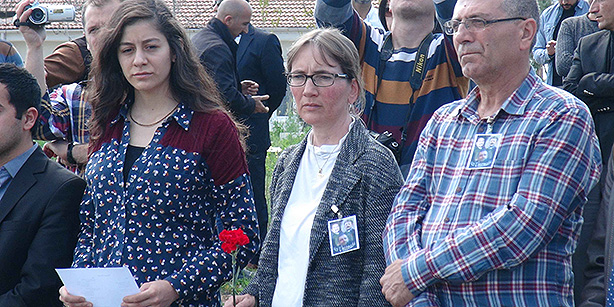 In April 2015, on the eighth anniversary of the murders, Tilmann Geske's widow Suzanne Geske (pictured, centre) – who has been living in Turkey for eleven years – said she had lost hope that justice would be served. Visiting her husband's grave in Malatya, she told Today's Zaman that the prosecutors and judges who had been hearing the case, as well as the police officers who had been involved, had been removed, causing the case to drag on. She said that she and her children have forgiven the perpetrators, but that they must be punished for the sake of justice.
Complicated trial
The Malatya murder trial opened in November 2007, but became increasingly complicated as a result of efforts to identify those behind the perpetrators. In 2011, the court was close to announcing its verdict, but the murders had by then been linked to Ergenekon, an alleged network of military officers, journalists and opposition parliamentarians accused of plotting to overthrow the government through a military coup, and the number of those tried in the case rose to 19, including a number of military staff.
A further complication, referred to by Suzanne Geske, was the purge in which thousands of police officers and prosecutors were removed from office.
Press conference at Turkish Parliament

Two days before the latest hearing, Turkish Protestants held a press conference at the Parliament in Ankara to highlight threats against them. Selina Dogan (pictured), an Armenian Christian and a Member of Parliament from the opposition Republican People's Party, said: "In our country everyone who is not Sunni and Muslim is in a disturbed psychological state."
She drew attention to a recent campaign of death threats of a "jihadist" nature sent to Protestant church leaders, most of them Muslim converts, saying, "The security officials and prosecutors are not conducting effective investigations. We are calling on the prosecutors, and we have requested a meeting with the Interior Minister."
(Today's Zaman, World Watch Monitor)
Share this