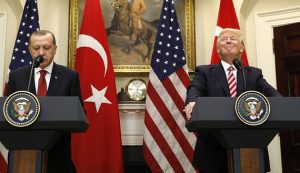 President Trump has appealed to President Erdoğan for the release of US pastor Andrew Brunson, amid fears that Turkey is using the pastor as a bargaining chip.
On 16 May 2017, US President Donald Trump held his first meeting with Turkish President Recep Tayyip Erdoğan at the White House (pictured). They discussed Washington's decision – which has angered Turkey – to supply heavy weapons to the People's Protection Units (a Syrian Kurdish group that Ankara considers a terrorist organisation) and Turkey's demand for the extradition of Pennsylvania-based Turkish Muslim cleric Fethullah Gülen, blamed by Turkey for masterminding the failed coup in July 2016. The US has consistently refused to extradite Gülen and it is feared that Turkey is holding Andrew Brunson hostage to force the extradition.
At the meeting, President Trump made an unexpected counter-demand that President Erdoğan release the pastor, who was detained in October 2016 as a "national security risk" with alleged links with the Fethullah Gülen movement. Since the failed coup, the Turkish authorities have arrested nearly 50,000 people for allegedly supporting what Ankara calls the the Fethullah Terrorist Organisation (FETO).
The White House later stated: "President Trump raised the incarceration of Pastor Andrew Brunson and asked that the Turkish government expeditiously return him to the United States."
Soner Tufan, spokesman of the Association of Protestant Churches in Turkey, stated: "We are worried that Brunson's release and return to the United States could be made a bargaining chip in return for Fethullah Gulen's extradition to Turkey."
Jay Sekulow, the pastor's lawyer in the United States, who met President Trump ahead of President Erdoğan's visit, says Washington is committed to pressing ahead for the pastor's release.
Background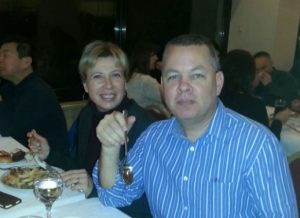 Rev Andrew Brunson and his wife Norine – pictured together – have led the congregation of the Izmir Dirilis (Resurrection) Church, on the west coast of Turkey, for 23 years. On 28 September 2016, the Immigration Authority issued a notification for their deportation on the grounds that their religious activities were "against national security". On 7 October 2016, they were detained under deportation orders in Izmir.
Norine was released on 19 October, but Andrew was held in detention facilities without formal charges until 9 December, when he was brought to court for the first time for questioning. He was accused of "membership in an armed terrorist organisation", FETO.
On 9 March 2017, Turkish Prime Minister Binaldi Yildirim told American journalists at a lunch in Ankara that it was "nonsensical" to believe Turkey is holding Andrew Brunson hostage until the US agrees to extradite Fethullah Gülen. He said Turkey would consider "accelerating" the pastor's trial process.
On 28 March, US Embassy officials from Ankara met Andrew in prison and he handed them an appeal letter to Donald Trump, describing himself as a political prisoner under false accusation and writing: "I plead with my government – with the Trump administration – to fight for me. Please do not leave me here in prison."
On 30 March, US Secretary of State Rex Tillerson met Norine while he was on a one-day stopover in Ankara to discuss Syria and other diplomatic issues with President Erdoğan and senior government ministers. After the meeting, Norine reported that Rex Tillerson said he had been told an indictment regarding her husband's case was "about to be handed down". However, prosecutors have yet to lay out charges in an indictment.
Read Andrew Brunson's Prisoner Profile.
Read more about the persecution of Christians in Turkey.
(Al-Monitor, Middle East Concern, World Watch Monitor)
Share this