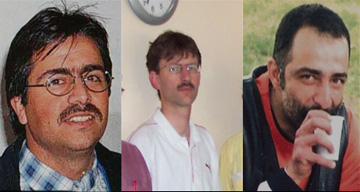 Wednesday 18 April 2012 was the fifth anniversary of the murders of Turkish Christians Necati Aydin and Ugur Yuksel (both former Muslims) and German Christian Tilmann Geske at Zirve Christian publishing house in the southeastern city of Malatya.
The Christians were brutally murdered by five young men on 18 April 2007. Necati and Tilmann were married, with two and three children respectively, and Ugur was engaged. His fiancáe has since married another Christian.
Memorial services were held at various locations including the three grave sites. After a memorial service in Istanbul, Semir Serkek (58), pastor of Grace Church in Istanbul, who worked for Zirve Publishing Company and knew the victims, described how he was attacked over Easter weekend.
Born to a Syriac Christian family, Pastor Semir said that he has known verbal abuse since childhood – especially since he started serving God and sharing his faith 35 years ago – but that the Easter attack was the first occasion of physical assault. "We are serving actively, and we have to spread the Word to be a source of blessing," he said. This is what we are called to do, to bless. This is how God will use us, and I believe this with all my heart."
RECENT ATTACK ON PASTOR SEMIR
The pastor was alone at Grace Church on 7 April, the day before Easter Sunday, finishing preparations for the next day's Easter celebration when, at around 9 pm, he heard pounding at the door. Opening it, he found four young men who claimed they had questions and demanded to enter. The pastor said they appeared to be about 18 years old, were agitated, and used insulting language when he refused to let them in. They threatened to kill him if he didn't recite the Islamic testimony of faith.
"I told them that this was a church and they should come back in the morning," said the pastor, continuing: "'ÄòThis is a Muslim neighbourhood, what business does a church have here?' they asked me, and told me again and again that if I didn't accept the final religion I would die." One of the young men kicked the pastor in the chest, throwing him down the entrance steps to the ground, whereupon the Muslims ran away laughing.
Two days after the attack, Turkish Director of Religious Affairs Mehmet Gormez called the pastor to express his disappointment about the attack on him. "I don't want to be ungrateful, but I also told him that these men are trained in the mosques," Pastor Semir said. "At least ten times they repeated their demand that I say the kelime-i sahadet [Islamic testimony of faith]. They pressured me. They told me I would die."
On Sunday 15 April, 17 activists from an organisation known as Dur De, which fights racism and hate-crimes, came to Grace Church in a show of support to Pastor Semir. Earlier in the week, a delegation from a Muslim organisation called Damla Nur Dursun visited him and brought flowers.
Malatya Court Case Update
Five young men were arrested at the scene of the Malatya murders in 2007 and were charged with murder. They were aged 19 and 20 at the time. Their trial opened in November 2007 but became complicated as a result of efforts to identify those behind the perpetrators.
At a hearing on 17 February 2012 (the 37th since the trial opened) the
panel of judges announced that an indictment was being prepared against
those suspected of instigating the murders and that it would be ready in time for the next hearing, scheduled for 9 to 13 April. However, on 9 April the court heard that the indictment was not ready, and the hearing was postponed until 18 June. The indictment is expected to name former local gendarmerie commanders and other officials who are already in custody. (Compass Direct, Middle East Concern)
Share this